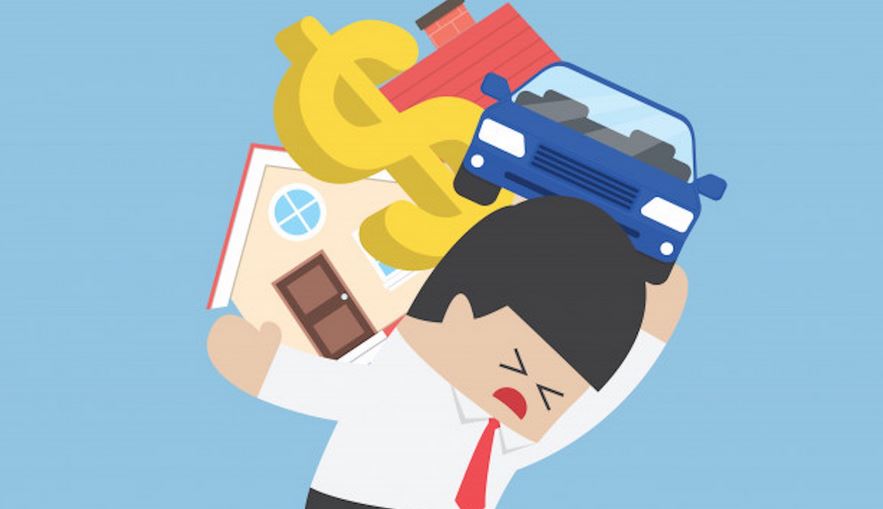 Consolidating your loans or debt is basically taking out a new loan to pay off all your other loans, liabilities or consumer debt. After finding a suitable lender, all your debts are combined into one simple and manageable loan, often with different terms.
It is a method that people use to deal with say, student loans, car loans etc., merging them into a single loan.
---
How debt consolidation works in South Africa
So you have multiple debts you are servicing. They could be a home loan, student loan, quick loan and even an auto loan. Perhaps keeping up with the repayment schedule for each is tiring and exhausting, and you are afraid your credit score will take a hit.
Or maybe some of these loans have some unfavourable terms, which you are struggling to meet.
To make your life a whole lot easier, you ask your bank or any willing lender to pay off all these loans on your behalf. In exchange, they give you one solitary plan that will be manageable, and in most cases has better terms. These can be smaller installments for a longer repayment period. You also get a single interest rates, while before you would have been paying multiple rates.
To be clear, debt consolidation is not the same as debt settlement. It is simply a transfer of the loans to a different lender.
You will likely still end up paying the same amount you would have paid before or more, but the new terms will make repayment a bit easier.
In South Africa, borrowers also have an option of debt review consolidation. This is when your debt counsellor assesses your outstanding debt, and negotiates with all your creditors for better interests rates or longer repayment period. This means that you will be paying your monthly installments as one fee to the debt counsellor, who will then in turn pay all your creditors the negotiated amounts.
The different is that the debt counsellor will not buy off your loan, but will rather continue making the repayments on your behalf every month.
Both debt consolidation and debt review consolidation have the same outcome, i.e. the borrower servicing a single debt instead of multiple ones.
Read: Things You Need To Know About Fast Food Franchising in South Africa
---
Does debt consolidation affect your credit score?
Debt consolidation is a part of the financial system and actually encouraged when repayment gets tough. Therefore, it does not affect your credit score in a negative way.
You will still be able to take more credit after debt consolidation.
However, after consolidating your debts into one, failure to make on-time repayments on that one, or completely defaulting will affect your credit score.
---
Who offers debt consolidation services in South Africa?
Debt consolidation is offered by a wide range of financial organizations. Banks both big and small have the service, as well as specialist debt providers and debt counsellors.
Some of these include: Debt Rescue, Debt Sage, Zero Debt, Debt Solutions, Debt Care, Debt Grip etc.
---
Does FNB offer loan consolidation?
Yes, FNB offers a debt consolidation loan as part of its personal loans program. They call it 'credit switch'.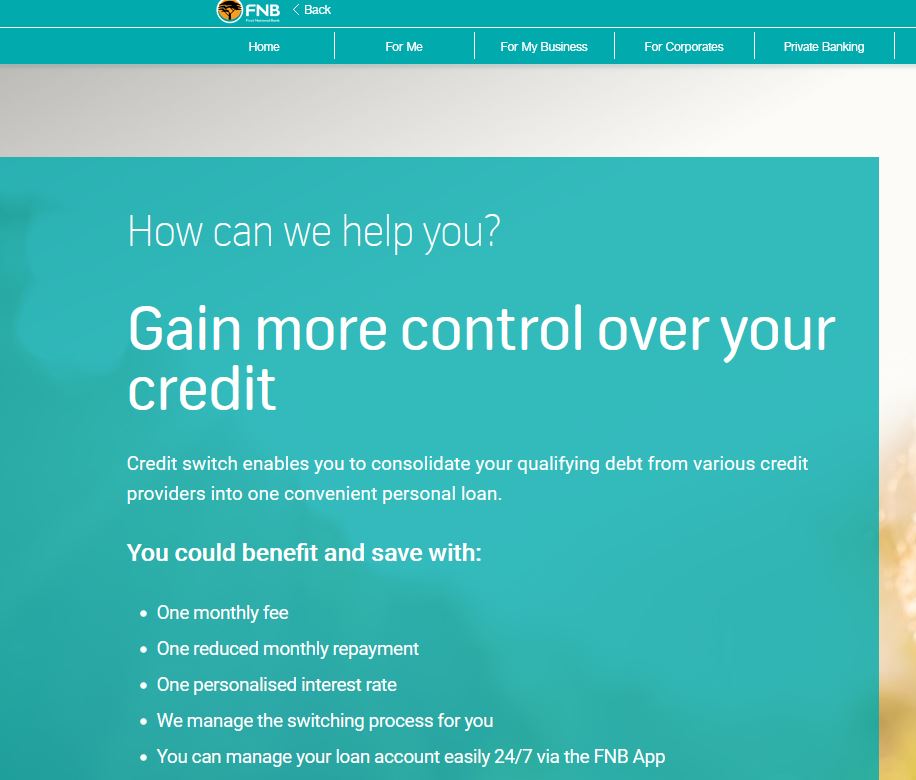 This is what they promise:
/ Reduced monthly repayment.
/ One personalized interest rate.
/ Managed 'switching'.
/ Easy loan management on the FNB app.
---
Does Absa offer loan consolidation?
Yes they do.
Just like FNB, they promise to reduce your monthly repayment.
Contact – https://www.absa.co.za/personal/loans/manage-my-debt/explore/
---
Does Standard Bank offer loan consolidation?
Yes, they do.
Benefits:
/ One single payment every month instead of several individual payments
/ One interest rate is payable, giving you lower monthly repayments
/ You won't easily forget to make your payment each month, which can improve your credit rating
Contact:
Call on – 0860 111 400
Email –  debtcarecentre@standardbank.co.za
---
Does Nedbank offer loan consolidation?
Yes they do. They can however only consolidate 3 of your loans.
Use their calculator to figure out how much you will be paying.
Read: How Much Does it Cost to Renovate Your Kitchen in South Africa?