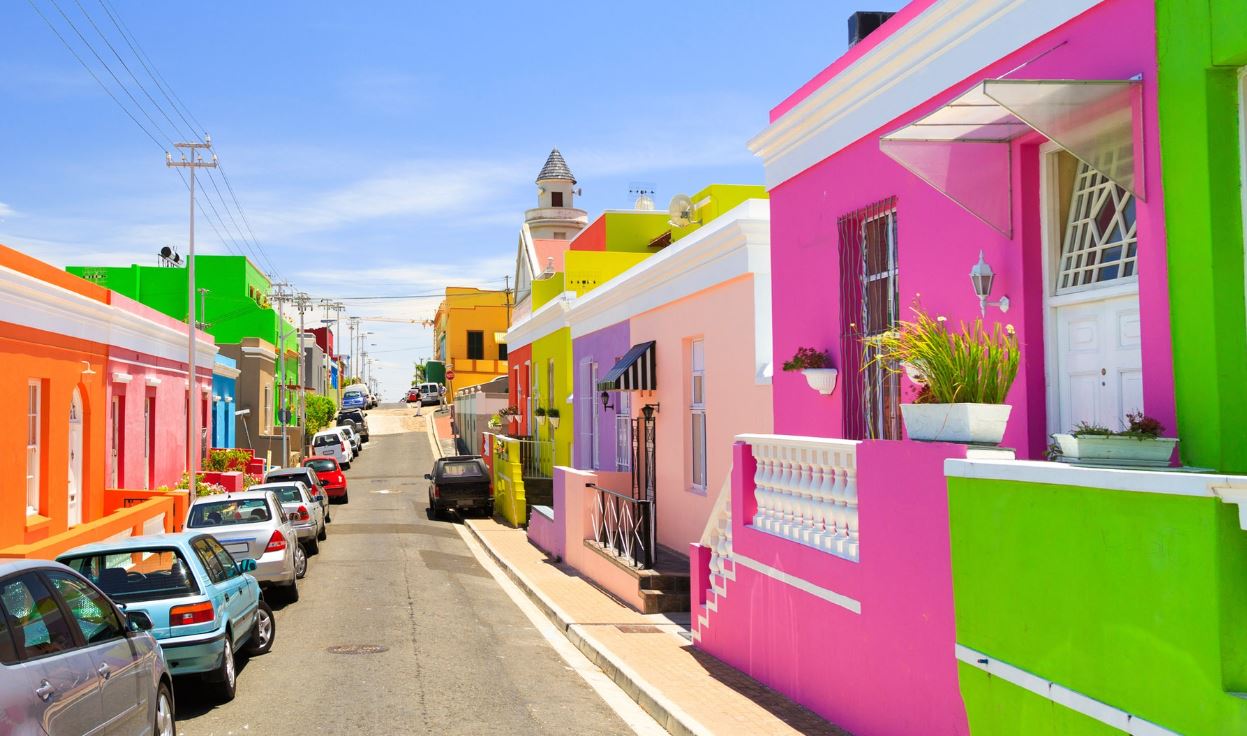 Cape Town is South Africa's most popular tourist destination, certainly among international tourists.
The 370 old city has grown into a beautiful metropolis, attracting over 2 million foreign tourist every year. It has been ranked over and over as one of the most beautiful cities in the world.
Its unique landscape of mountains and coastline, plus the bright row houses of Bo-Kaap make any tourist instantly fall in love.
The city is incredible all year round, owing to its relatively good weather.
The climate in Cape Town is warm and temperate Mediterranean-style. While there are seasonal variations, they are all within a tolerable range, meaning you can travel and enjoy your visit any time of the year.
In summary, this is how the weather is for a typical year.
| | | | | | | | | | | | | |
| --- | --- | --- | --- | --- | --- | --- | --- | --- | --- | --- | --- | --- |
| Month | Jan | Feb | Mar | Apr | May | Jun | Jul | Aug | Sep | Oct | Nov | Dec |
| Low °C | 16 | 16 | 15 | 13 | 10 | 9 | 8 | 8 | 10 | 11 | 13 | 15 |
| High °C | 26 | 26 | 25 | 23 | 20 | 18 | 18 | 18 | 20 | 21 | 23 | 25 |
| Rainfall (mm) | 24 | 25 | 30 | 74 | 117 | 143 | 131 | 126 | 70 | 55 | 31 | 27 |
Cape Town seasons
Summer: December – Mid March
Autumn/Fall: March – May
Winter: June – August
Spring: September – November
Read: 5 Airbnb Stays Near Cape Town That Will Blow Your Mind
---
What is the best time to visit Cape Town?
Let's look at it on a month to month basis.
January:
The weather in January is pretty much a tourist's dream. It's summer time.
This is the month most tourists descend on the city, filling up beaches, attractions and filling up hotel beds. This drives up the prices of everything.
If you are budget cautious and not a fan of crowds and queues, perhaps January is not the best month for you.
---
February:
Not as noisy and busy as December and January, but since it's still summer, there are thousands of tourists roaming the city and its attractions.
As a tourist you will enjoy the weather, and if you are a sports fan, you are right in the middle of cricket season. February would be good for those who don't love large 'touristy' crowds.
---
March:
For most of March, the weather is still great. Summer is coming to an end, and the winds are dying down. More importantly, most seasonal tourists have now left or are in the process of leaving, which is good for your wallet.
If you love soaking up culture, you will enjoy the atmosphere at the Cape Town Carnival and Cape Town International Jazz Festival.
Occasionally, there will be some rain, and the days will be noticeably shorter.
---
April:
The seasonal showers start in this month, and it is quite common for it to rain during the day.
Also, since peak tourist season is over, you will find the best deals starting this month. During Easter weekend, Cape Town and particularly its beaches are swammed by local tourists, many of whom have travelled from other South African cities.
It is also during this Christian holiday that many shops and facilities will be closed.
---
May:
With 117mm of rainfall, you are now squarely in the rain season. This is not really a great time to visit, unless you're into this kind of experience.
Most outdoor activities will be paralyzed. Occasionally, you will get clear blue sky with perfect temperatures, but don't get too comfortable as things can change in the blink of an eye.
In this month there will be a few wine festivals here and there.
---
June:
June is another wet month. In fact the wettest.
It may not be a great time for tourist activities, with the exception of whale watching. This month is the start of the whale season, and they are relatively easy to spot.
If you are on a food culture tour, this would be a great month. Everything is priced at its lowest in June, and restaurants are falling over themselves to offer specials.
---
July:
The coldest month of the year, and that combined with the rain is not a great combination for tourists.
For a few days in the month, you may be lucky to experience perfect weather, but there is no saying how long that can last. One minute things can look surreal, and the next minute you are scrambling for shelter.
The beach is almost a no-go zone, but on a clear day, the whale watching can continue.
Read: Top 5 Cheapest Camping Sites in South Africa
---
August:
Like the two months before it, it is still cold and wet in August. With daytime temperatures maxing out at 18°C, its fair to say that you will need some warm clothing for most of the month.
Tourists who don't put a big premium on the weather might actually enjoy August. And oh, the whale watching is still possible in this month.
---
September:
Things are now starting to look up in September. The weather is not as bad and the city is now vibrant with festivals and exhibitions.
You can still expect a few rainy days, but for the most part, September is a decent month to visit.
---
October:
With lows of 11°C and highs of 21°C, October presents probably the best time for hiking – a pretty common pass-time in the city, popular with both locals and tourists.
The outdoors in general will be welcoming to you, with very low chances of sunburns. There are also a number of festivals all over the city.
---
November:
The literal festive season starts in November. The weather is amazing, the streets are full of people and the beaches are overflowing again.
This is the Cape Town your travel agent sold you. There are more outdoor events and festivals than you can count. If you want all the perks of December but without as large a crowd, this is your month.
---
December:
Pretty much a November on steroids. Perfect weather, extravagant festivals and celebrations etc.
Expect to pay peak prices on everything, and if you really want to visit in December, make your bookings months in advance. Perhaps even over a year in advance.
During the Christmas and New Year period, most locals will leave the city to be with their family members elsewhere. However, many attractions will remain open.
The weather in December is good for every outdoor activity on offer.