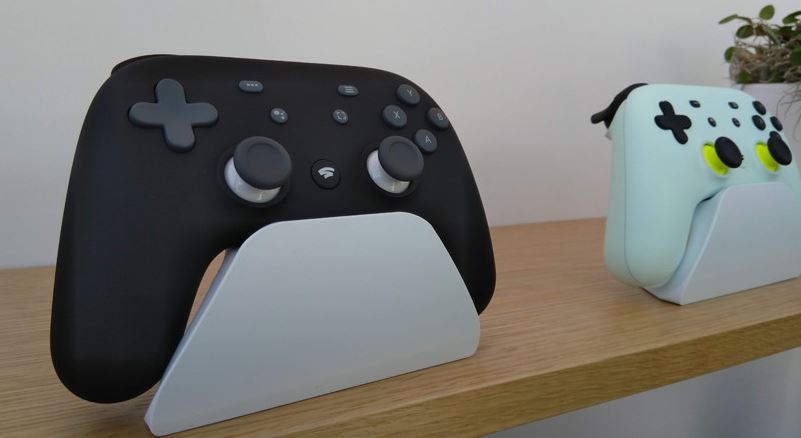 Something huge is happening in the gaming world.
While many people think the future of gaming will be more powerful Playstations, Xbox, Nintendos or other consoles, Google begs to differ.
The giant software company believes all you will need a few years from now is a screen with an internet connection.
A few months ago, Google announced Stadia, a cloud based gaming service. The service is launching on November 19 in the US, and will be gradually rolled out to several other countries and hopefully, eventually to the world.
Read: YouTube Brings Live Sports To South Africa
How Does Google Stadia Work?
Traditionally, high performance gaming involves expensive hardware, often costing thousands of Rands. The Playstation brand has been the most popular for years. Top 3 gaming consoles in terms of sales over the past few years have been the PS4, XBox One and the Nintendo Switch.
These consoles do all the heavy lifting, providing all processing requirements to give you a great gaming experience.
With the emergence of cloud computing however, the requirement of having expensive processors to do tasks locally has reduced significantly. Softwares like Microsoft Office can now be accessed purely online with a modern web browser.
In this case, all the processing work is done in industrial data centres owned by Microsoft, ensuring that even your weak laptop handles the tasks flawlessly.
Read: 10 Sites To Stream Online Series in South Africa
This is the same direction Google is taking with Stadia.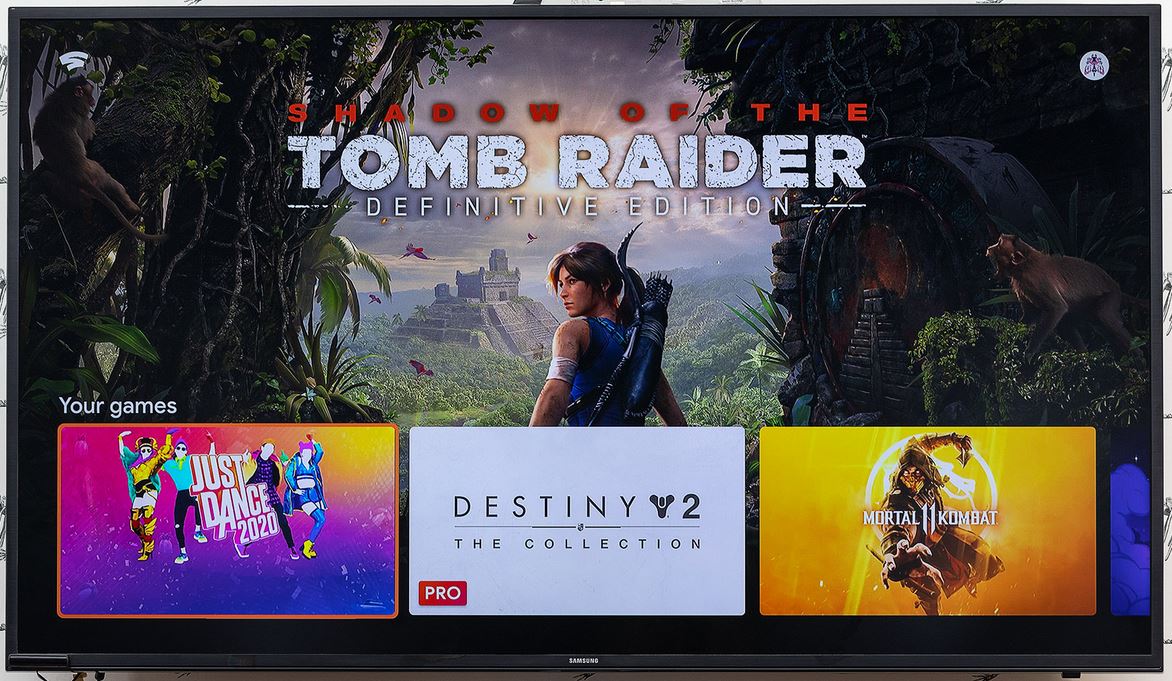 As long as your computer is powerful enough to stream YouTube videos, you should be just fine. Google's data centres scattered all across the world will handle the game processing for you. What you will be seeing on your device, at least in theory, is just a video like you would expect when streaming on YouTube.
The best part of this cloud gaming is that you can pick up where you left inside the game, on any device without worrying about losing your saved progress.
Google is also heavily intergrating Stadia with YouTube, promising that you will be able to join in a game being streamed by your favorite YouTuber, at that exact moment in the game.
Google Stadia Internet Requirements
If Google is to be believed, you will not even require super fast internet speeds. With only 10mbps, you will be able to stream/play the game at 720p.
At 20Mbps, Google promises 1080p streaming and 35Mbps is said to support 4k streaming.
However, there have been claims that despite these promises, Google has been unable to deliver among those given advance access. One Forbes writer described the service as a disaster after failing to get consistent performance despite having an internet speed of above 200Mbps.
Read: This is the Total Number of South African Homes with Fibre
Do you Need a Console With Google Stadia ?
With this new service, you will be able to access tens of game titles, on the move with whatever device you are using; TV, computer, tablet, smartphone, perhaps even your smart fridge.
The service will be accessible via the Chrome browser, but in future Google might eventually launch a dedicated app.
However, you do need a gamepad for the ultimate console playing experience. The service will be compatible with industry standard gamepads, particularly the Xbox One Elite and the Playstation Dualshock.
Google has however released their own gamepad inspired by the two mentioned above.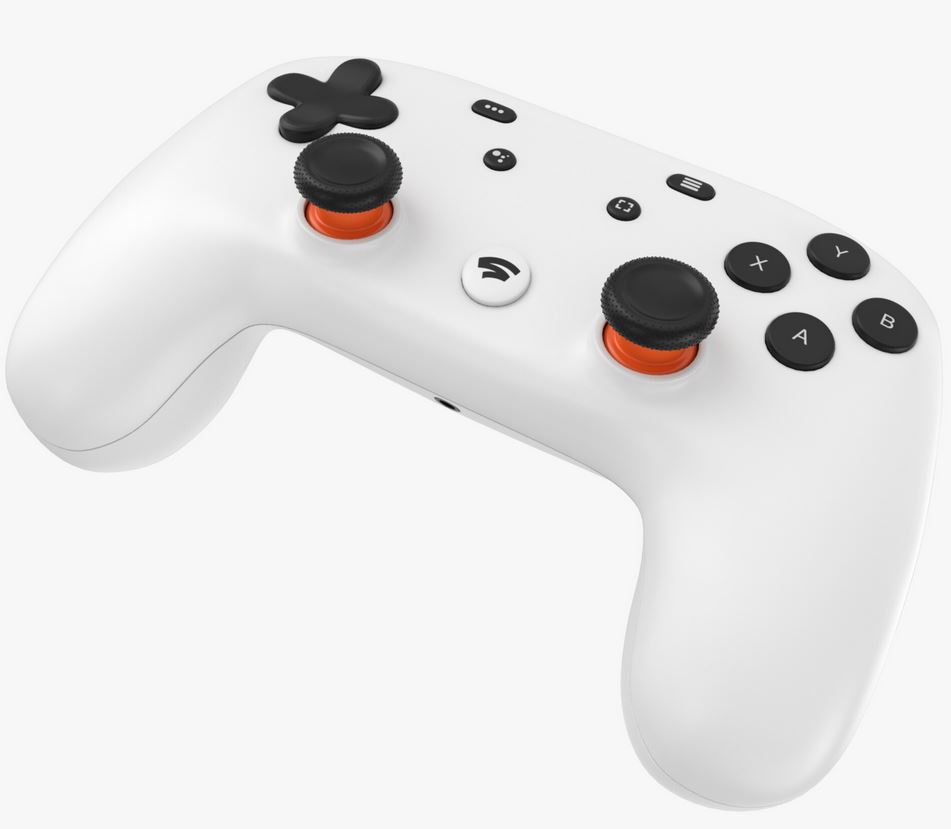 You might also need a Chromecast external device if your TV does not natively support.
How much is a Google Stadia Subscription
Stadia is still very much in the early stages. Early adopters will initially be enthusiasts, and this is because of both the price and the unknowns in the service reliability.
There was initially a Founders edition for $129, but that sold out and has been replaced by the current Premiere edition for the same price.
With this you get a controller, Chromecast Ultra and a 3 month subscription of Stadia Pro.
Stadia Premiere is available in the US, Canada and Western Europe.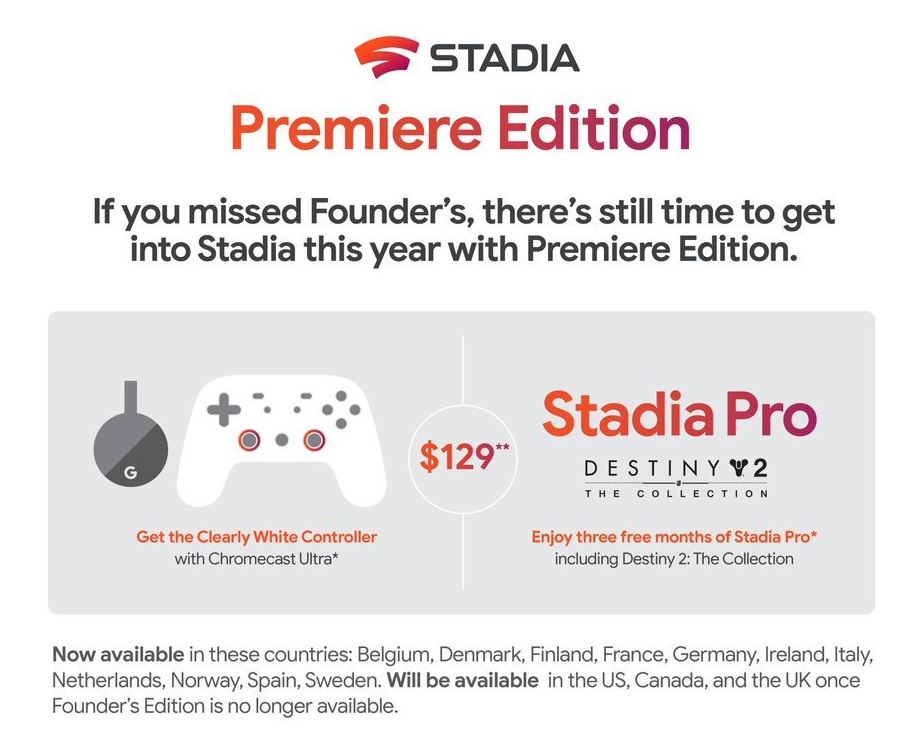 While Google Stadia was initially taunted to be the Netflix of gaming, that is turning out not to be the case. Apparently, gaming licensing doesn't work like movie or TV series do.
Users will be required to buy the games, probably at full price, and Stadia will only house them in your library. If you need any new game, you will need to purchase it.
The $10 a month subscription price for Stadia Pro is only useful because it allows you to play in 4K. A free tier of Stadia will be launched in 2020, allowing you to play in upto 1080p.
However, the pro subscription will in future allow you access to many free titles, with Destiny 2: The Collection and Samurai Shodown available right away.
Is Google Stadia Available in South Africa?
As mentioned, Stadia will launch in November in the US, Canada and the Western Europe countries of United Kingdom, Ireland, France, Germany, Italy, Spain, the Netherlands, Belgium, Denmark, Sweden, Norway, and Finland.
As with many new services, like the recently launched Disney+, Africa as a whole and South Africa in particular have been ignored.
There is no word on when the eventual rollout will be made here, but we can guess it will be a year at least.
Perhaps then, South Africa will have improved the overall broadband internet speeds.