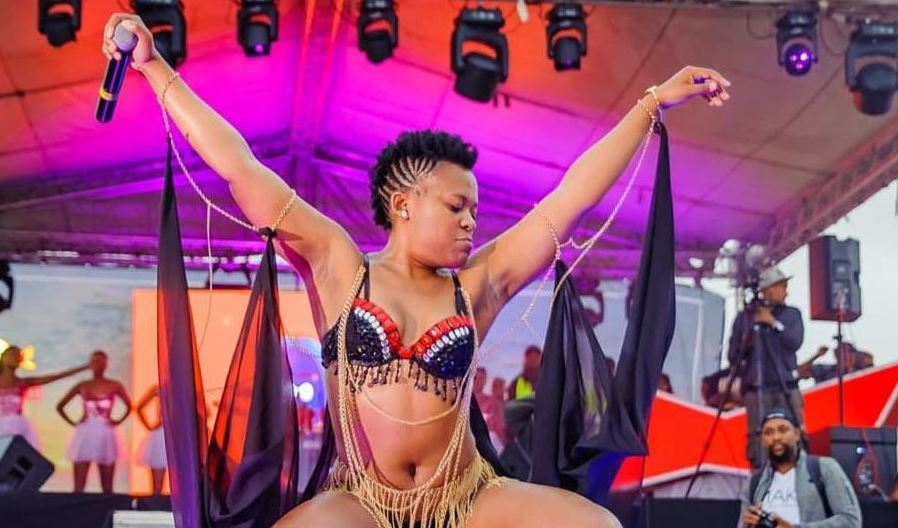 Controversial dancer Zodwa Wabantu is back in the headlines.
A video has surfaced online showing the entertainer skimpily dressed (as usual), and seemingly not wearing a panty.
As she addresses the crowd, some men who were just next to her are seeing groping her. Several hands are seen slipping between her thighs inappropriately. All along, she seems unbothered and continues talking to the crowd.
When the video hit Twitter, Zodwa topped the trends, with fans divided on whether it was appropriate or inappropriate, giving her reaction or lack of it.
Read: Zodwa Wabantu Stripped off Award After Making Homophobic Remarks
References were also made to a similar video which showed Cassper Nyovest being groped on stage.
Here are some of the comments.
I don't see any sexual assault here. Zodwa has been allowing men touch her inappropriately, maybe it wasn't such a big deal then because there weren't so many videos but kade eyenza lento. She's a straight talker Zodwa, if ubengafuni ubezosho!

— _Tlxhx_ (@michelle_mcpee) August 21, 2019
To the people saying she is not respecting herself.
Did she say that?

— VIWE.N.Q DUMA (@MINTYDUMA) August 21, 2019
What happened to Zodwa
What happened to Zodwa is the same thing that happened to Cassper pic.twitter.com/J8kmudyqIC

— Berry Ndumiso Yiproblem🇿🇦 (@TurnUpGvngstar) August 21, 2019
As for the men who are condoning this 🤮. Hypocrites! If this was your sister, mother, aunt etc or even your gf, you wouldn't be applauding this. Zodwa

— Linda (@Leeleelera) August 21, 2019
Men are embarassing period, Zodwa is forever naked but its not an invitation to grope her, why cant they keep their hands to themselves….🤦🏾🤦🏾🤦🏾

— Jax (@mpumi_jax) August 21, 2019
This one… She likes the attention. If it was not to her liking she should have/could have/would have walked away. Seems,. she chose to stay and that is the outcome. Pretty damn sad though that she has no self respect

— UNapologetic Debbie van Niekerk (@debbiejustdoes) August 21, 2019