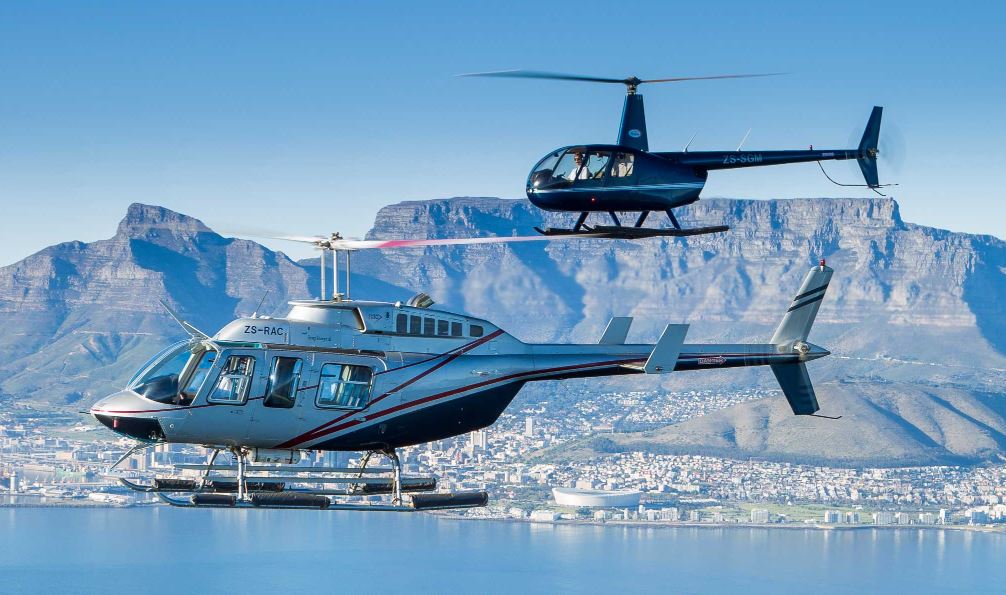 As tourism and travel starts coming back after the pandemic, one popular bucket list item among tourists, foreign and domestic alike, is a helicopter ride.
It gives you an opportunity to see South Africa's beautiful scenery from above, offering you something you will remember for a lifetime.
You do not even have to be a tourist. Perhaps you are pressed on time and want to move quickly between destinations. There are numerous helicopter charter services that can come in handy.
Unknown to most people, taking a helicopter ride is not always a bank-breaking endeavor. Some of these rides can be surprisingly affordable, as we will find out.
How are helicopter rides priced?
There are several ways the price of your ticket is determined. Some charter companies offer specific packages e.g. for honeymoons or fixed-route sight seeing, perfect for tourists who just want to enjoy their time.
If you are doing it for business or travel however, you will most likely be charged by the hour. This means the farther your destination, the more you pay.
How much is a 'honeymoon' helicopter ride in South Africa?
Honeymoons are one of the more popular reasons South Africans hire helicopters. It is the one time they are ready to splurge, and taking a flight seems like an appropriate pinnacle to the celebration of their union.
Several companies offer honeymoon packages separate from their other options. Cape Town in particular is the Mecca of such offerings, owing to its status as one of the most popular honeymoon destination, not only in South Africa, but in the whole of Africa.
Cape Town Helicopters, a company offering its service on Airbnb will give you a half hour helicopter ride for just R2 930 per person. The ride departs from the iconic V&A Waterfront taking you through a scenic flight along the Atlantic coast, viewing famous spots like the Cape Town Stadium, the 4 Beaches of Clifton, Camps Bay, Lions Head etc. before returning you to the V&A.
How much is a helicopter ride in Cape Town?
As mentioned, Cape Town is the center-stage of helicopter tours in the country.
There are many companies offering the rides, and basically the pricing is almost similar when calculated on per hour basis. However, while some have requirements of at least 30 minute flights, some are more suited for the masses, with options for shorter than 10 minute flights.
Cape Town Helicopters, for example have a package of just R990 per person, for a flight of 8 minutes. While not the longest flight, it is still adequate time to view large parts of the city.
Read: Which is the Best Month to Visit Cape Town?
How much is a helicopter ride in Johannesburg?
Just like in Cape Town, there are several helicopter charter companies in Johannesburg. They offer wide ranging sightseeing packages around the city and its surroundings.
One company, SA Helicopter Charters, have packages ranging from R2 300 per person for 30 minutes, to R6 300 per person for about 1 hour 20 minutes.
Depending on what you choose, you will have an bird's eye view of Sandton CBD, the picturesque Hartebeespoort Dam, Indaba Nuclear facility, FNB/Soccer City Stadium, Zoo Lake, the Wanderers Cricket Stadium, Kyalami Racetrack, Castle in Midrand, Grand Central etc.
Helicopter ride for your engagement or wedding in South Africa?
Other than honeymoons, taking a helicopter ride to pop the big question is picking pace. It is quite literally the height of getting engaged.
You'll be glad to note that there are packages that cater to just that. In Joburg, you can get an unforgettable experience for just R5700. Engagement helicopter packages typically feature a short flight out of the city into some romantic, picturesque setting, perhaps in a country estate, and then a ride back to the city.
On top of engagements, more and more South Africans are taking helicopter rides to their actual weddings. Talk about arriving in style.
Now read: How To Book a Private Cable Car To The Top of the Table Mountain