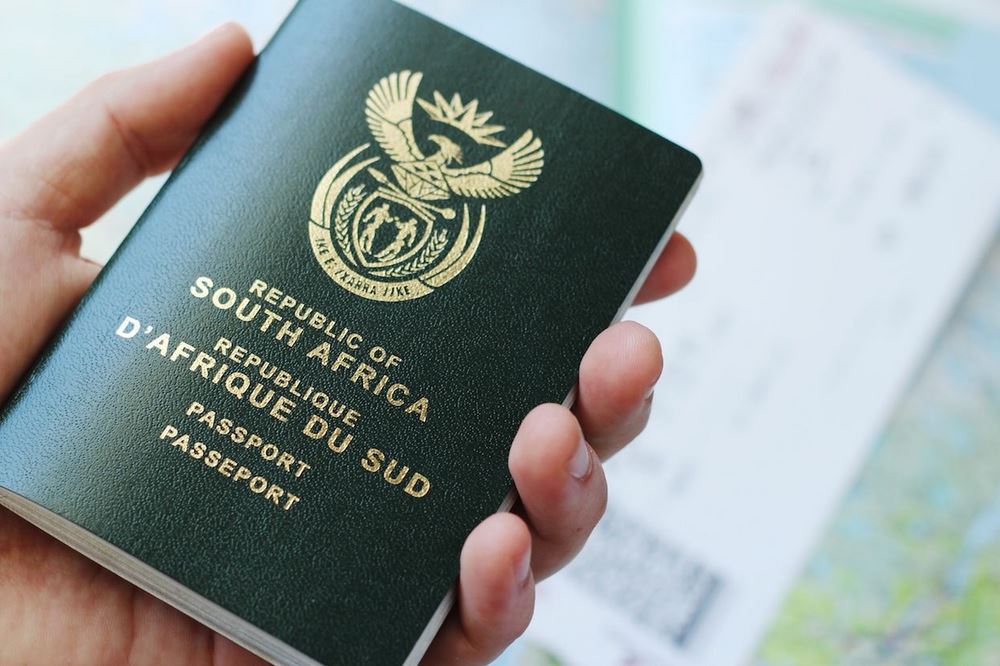 The 2021 Nomad Passport Index is out.
The report ranks 199 countries/citizenships, based on five factors. It goes beyond just the passport strength, but also looks at what it means to be citizens of those countries.
It not only puts into consideration visa-free travel, but also international taxation laws, global perception, dual citizenship, and personal freedom.
The index was developed by Nomad Capitalist, a boutique consulting firm that targets high net worth individuals.
Passport scores fluctuate every year as countries are always making new bilateral agreements or cancelling old ones.
However, 2020 saw a big shift in that even passports of powerful countries were reduced to nothing due to the global pandemic. At some point, US citizens were completely blocked from travelling almost everywhere in the world, making the US passport, albeit temporarily, one of the world's weakest.
As world travel starts to return to normal, the status quo has started to return in terms of ranking.
---
The Nomad Passport Index weights its passport ranking as follows:
Travel: 50%
Taxation: 20%
Dual Citizen: 10%
Perception: 10%
Freedom: 10%
South Africa passport strength by visa-free travel
On travel, they rank passports based on their access to other countries on a visa-free basis, or a simple and straightforward e-visa basis.
In this ranking, Japan is once again the highest, with 191 countries accepting the Japanese passport relatively easily.
Other top countries here are: Singapore with 190 countries, Germany with 189 countries, South Korea (189), Luxembourg (188), Italy (188), Spain (188), Finland (188), Denmark (187), France (186), United States (185), Australia (184).
The South African passport has easy access to just 101 countries.
***************************************
South Africa passport strength by taxation
When it comes to taxation, the report ranked countries based on how they tax their citizens, in relation to their travels.
For instance, the United States which taxes its citizens no matter where they live on the planet received the lowest score (10).
Countries that allow their citizens to relocate in order to avoid taxes got an average score (20 -30).
Those that don't tax foreign incomes of citizens received a 40, while those with zero tax received a 50.
In this ranking, South Africa received the lowest score of 10, meaning our tax policies are among the worst in the world.
Read: Travelling With Pets To South Africa.. Everything You Need To Know
***************************************
South Africa passport strength by dual citizenship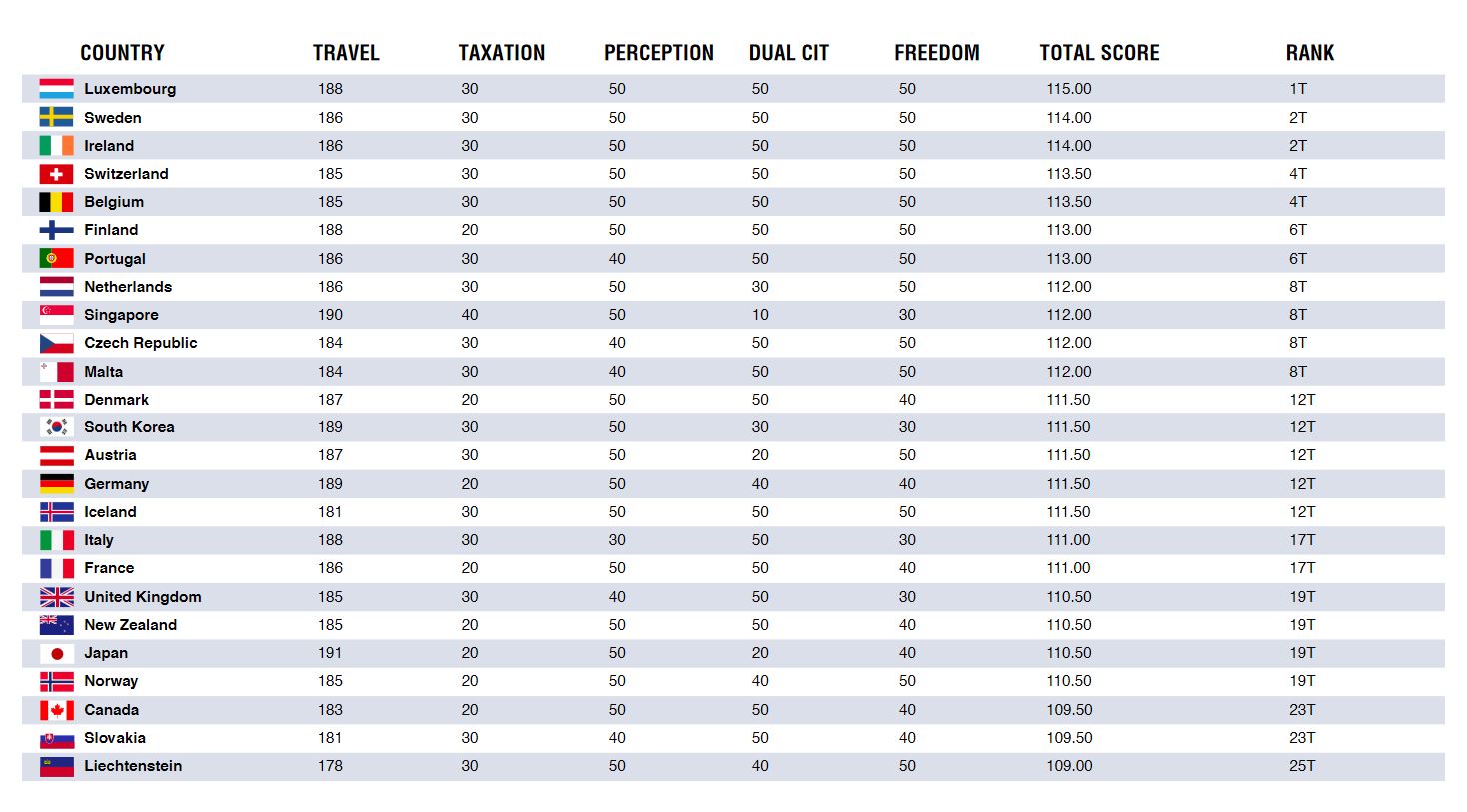 When it comes to dual citizenship report, the ranking also awards the same scores.
10 is for countries where dual citizenship is strictly forbidden, like China, while 50 is for countries where the practise is freely allowed like Canada. Nomad Capitalist relied on Embassy data and experiences of those who tried to acquire dual citizenship.
In this regard, most rich countries scored the maximum score.
South Africa too scored a 50.
***************************************
South Africa passport strength by perception
The fourth ranking is perception. For this, the index relied on other reports such as the World Happiness Report, the Human Development Index, and other subjective factors. The same score of 10 – 50 applies.
As expected, most wealthy countries are perceived well abroad, and their citizens are usually very welcome wherever they travel. The United States is a bit of a pariah here, in that despite being the richest country on earth, it only scores a 30. However, this is easily explainable by its many conflicts around the world.
It's wars in the Middle East and trade war in China do not really help its image, and neither does its recent political skirmishes at home.
South Africa is only given a 20, which is lower than several African countries like Kenya (30), Tanzania (30), Namibia (30), Botswana (30).
SA ranks the same as Nigeria on perception, which is quite saying something considering how bad of a reputation 'Nigerian princes' have given their country.
***************************************
South Africa passport strength by personal freedom
The final category is personal freedoms.
Here, the report looked at mandatory military service, government surveillance, press freedom etc.
Once again, South Africa fairs pretty badly. We receive the lowest score possible – 10. Meanwhile our neighbours Botswana receive the maximum, 50.
***************************************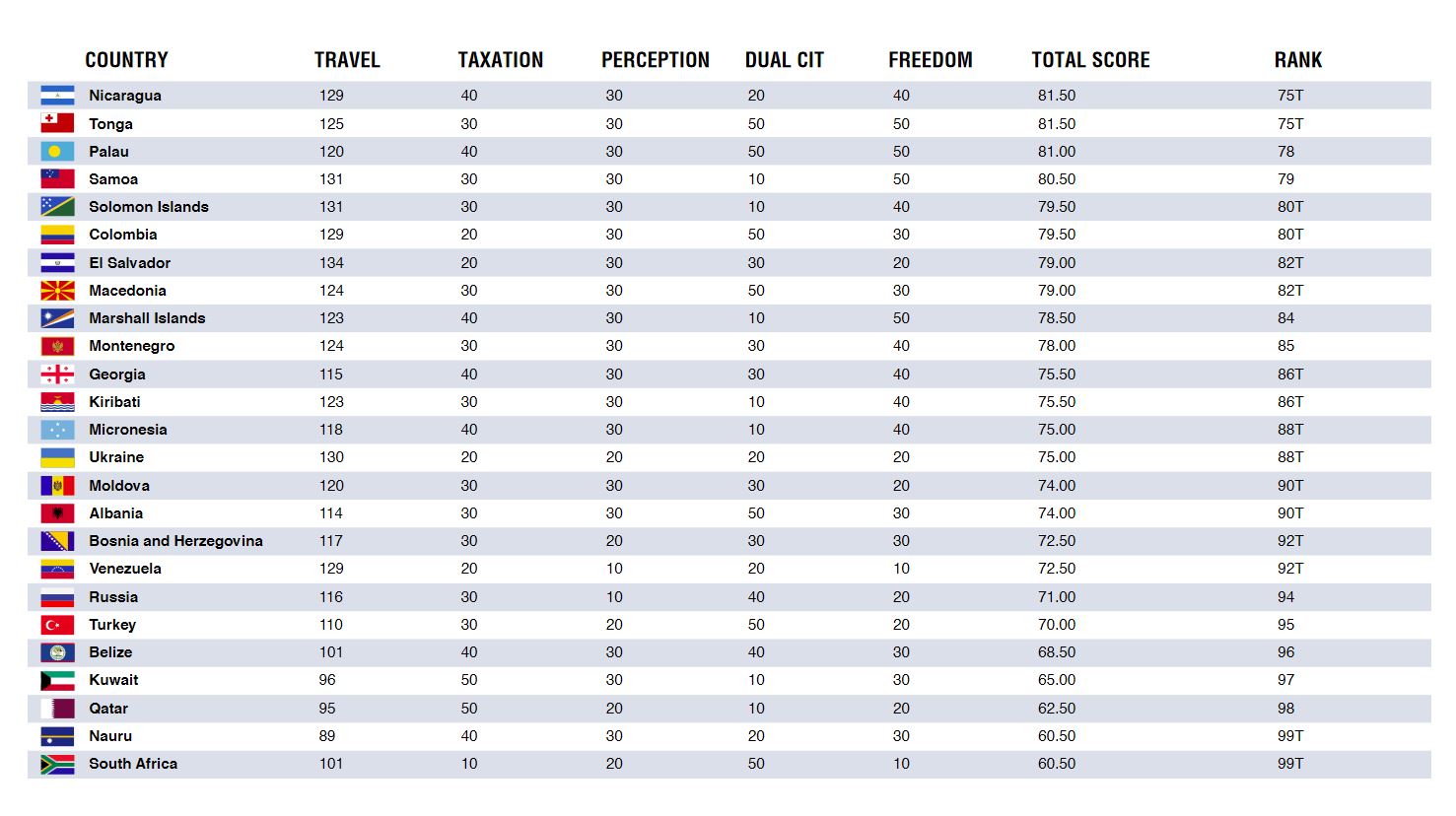 When all these separate rankings are aggregated and weighted, South Africa comes in at position 99 in the world.
In Africa, the island countries of Seychelles and Mauritius come in first and second, at number 59 and 61 in the world respectively.
South Africa, despite is low global rank, is position 3 in Africa and the first on the continental mainland.
Botswana follows closely at position 101.
---
Here are the top 10 strongest African passports in 2021:
1. Seychelles – 59
2. Mauritius – 61
3. South Africa – 99
4. Botswana – 101
5. Namibia – 111
6. Malawi – 113
7. Lesotho – 116
8. Zambia – 118
9. Kenya – 121
10. Tanzania – 124
Oh, and in case you were wondering, Nigeria comes in at position 181, just above South Sudan and Somalia.