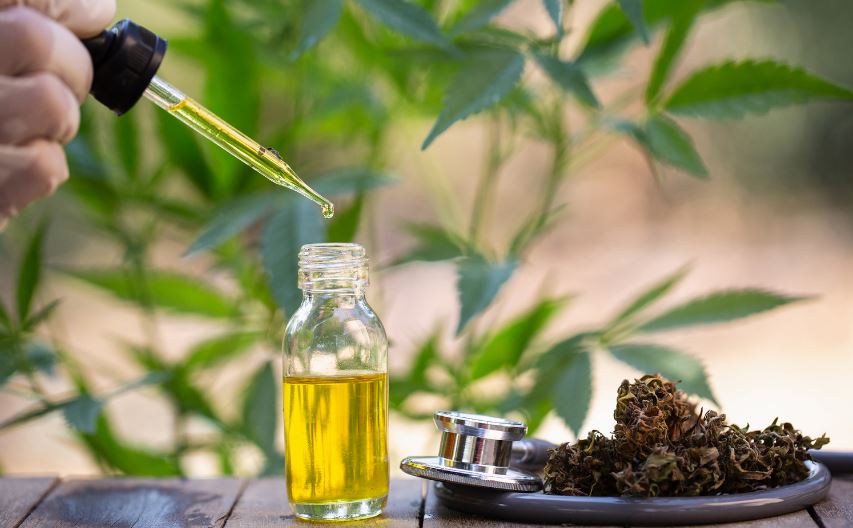 Upon the discovery of potential benefits that cannabis oil has, the cultivation and exploitation of cannabis for commercial purposes has greatly increased. South Africa, being the continent's most advanced economy, has been quick to jump on board a trend previously reserved for the west.
Many South Africans are exploring the medical benefits presented by Cannabis and its products, including the various cannabis oils. Leading pharmaceutical retailers in the country have taken note and have rolled out various brands of cannabis oil on their shelves.
But what is cannabis oil exactly? And what components does it contain that make it such a useful product?
What is cannabis oil?
Cannabis oil is an extract obtained from the cannabis plant. Before its processing, the oil is estimated to contain more than 100 active ingredients with the most common ones being cannabidiol (CBD), and delta-9 tetrahydrocannabinol (THC).
These active ingredients are not equally distributed in all cannabis plants; their concentration varies with the plants from which they are obtained.
Which compounds does cannabis oil contain ?
There is a range of compounds that can be obtained from cannabis plant flowers. These compounds, usually referred to as cannabinoids, have been found to contain medical properties.
Besides CBD and THC mentioned above, other compounds that can be obtained from cannabis include;
Cannabinol (CBN)
Cannabinol is a mildly active psychoactive cannabinoid present in trace amounts in cannabis plants. It is prominently known for its sedative effect – ability to reduce excitability and bring a  calming effect.
Tetrahydrocannabinolic acid (THCA)
Another compound is THCA, which is the active component of cannabis. The compound has demonstrated a variety of important medical properties such as; anti-inflammatory and neuroprotective effects.
What are some of cannabis oil products ?
HEMP OIL
Hemp oil is obtained from hemp plants and it contains 100mg of CBD. "Dis-Chem" and "Clicks", two of the largest pharmaceutical retailers in South Africa, distribute the oil in a volume of 10ml. Recommended dosage is 24 drops per day and it costs about R 295.
RETHINK CBD
Rethink CBD  contains 300mg of CBD and is distributed in a volume of 30ml. The recommended dose is 30 drops per day and it costs about R 400.
ELIXINOL
Elixinol contains 100mg of CBD and is distributed in 30ml bottles. Recommended dosage is half a dropper which gives you 1.7mg of CBD.
What are some of the diseases that cannabis oil can treat ?
Cannabis oil has become increasingly important because of the desired therapeutic results that it has displayed. The oil has been found to improve the health of people suffering from diseases such as arthritis and cancer.
Other diseases that this oil can cure include;
– Attention Deficit Hyperactivity Disorder (ADHD)
– Diabetes
– Pain
– Sleep disorder
– Anxiety
Is CBD oil legal in South Africa?
Until June 2019, CBD oil and other cannabis extracts were illegal in South Africa. In fact, CBD was classified as a schedule 7 drug, alongside heroin. Health minister Aaron Motsoaledi however changed that, categorigizing CBD oil as a schedule 4 drug for at least one year.
This means it is available from pharmacists under prescription. The maximum daily dose of CBD must be 20 milligrams or less.
In May 2020 however, this exemption will expire and cannabis oil might go back to being illegal. The government can however choose to extend the period.
Where can one get cannabis oil in South Africa ?
There are a number of reputable suppliers of cannabis oil in South Africa. However, due to the increasing number of scammers who sell snake oil to unsuspecting buyers, it is advisable to do extensive research in order to determine reputable dealers.
The legal greyness of cannabis in South Africa can also make this buying adventure problematic. But despite these challenges, there is still a possibility of obtaining quality cannabis oil.
As mentioned above, the best known retailers selling Cannabis or CBD oil are Clicks and Dis-Chem. Their prices range from R295 to almost R700.
According to retailer Clicks, brands such as Elixinol, Rethink and Cannabex are available in 92 of their stores, mostly in Johannesburg and Cape Town.