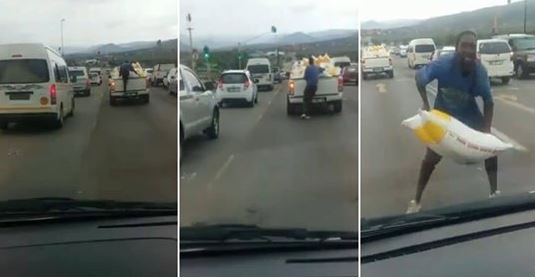 South Africans were left astonished by a video of a man stealing a sack of mealie meal in traffic.
In the viral video, the man is seen on top of the bakkie full of sack after sack of mealie meal. He struggles a bit to get one of the sacks to the ground, with the driver of the bakkie seemingly oblivious to what was happening.
The man is eventually successful in 'liberating' one of the sacks, as other drivers in the slow moving traffic cheer, jeer, laugh and hoot.
It appears the thief got away with it since the bakkie driver did not stop.
Here's the clip of the daylight robbery.
Meanwhile in 2020. Focus! pic.twitter.com/fatLRg6mBL

— 🌻Annie 🌻 (@Annie_Modiba) January 15, 2020