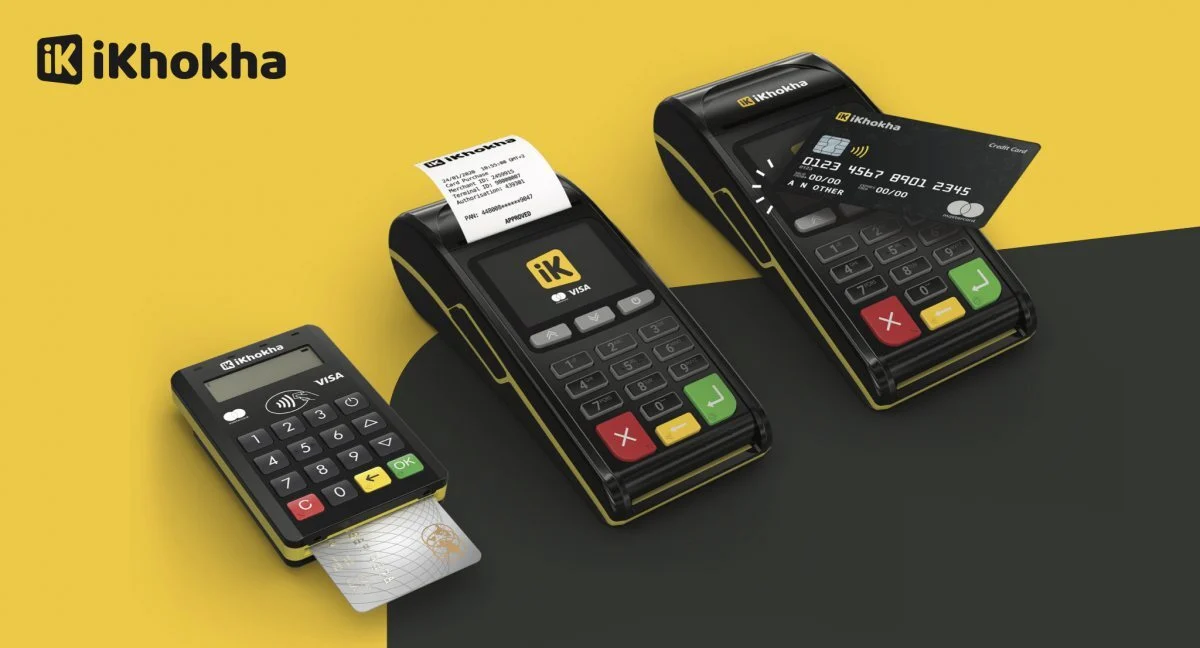 By virtue of its convenience and security, among other enormous benefits, many businesses are now embracing cashless payment methods, shaping the financial outlook of South Africa.
Cashless or digital transactions like the use of credit cards, debit cards, mobile wallets, cheques and demand drafts, net banking, and Unstructured Supplementary Service Data (USSD) have a hand in the successes of many businesses, owing to their reliability and the ability of business owners to manage their budget and inventory in one platform to tackle the issues of overspending and budgeting in a business model.
Financial digitization has come along with other innovations, such as card machines or card readers. A card machine is a point-of-sale terminal that reads credit and debit cards to complete an automated transaction.
Many fintech companies in South Africa provide card machines to businesses and SMEs, but according to our research, the Ikhokha card machine is the best card reader for SA small businesses due to its sophisticated but easy-to-operate POS software and low and simple fees starting at 2.75% exclusive of VAT. Read on to learn more about Ikhokha card machines:
What is Ikhokha card machine?
The Ikhokha card machine is a handheld device used to authorize debit or credit card payments and other forms of digital payments when conducting transactions.
It is a product of Ikhokha, a financial technology company founded by Matt Putman, Ramsay Daly, and Clive Putman in 2012 to help business owners manage their financial operations through mobile innovations.
Ikhokha card machines are a long time value to your business because of their speed of processing transactions in a safer way owing to their complex security features like data authentication and encryption to avoid crimes like identity theft. Also, its low transaction fees of 2.75% provide you an opportunity to grow your business as it helps you save a lot of cash.
Ikhokha card machines are a product of Ikhokha in partnership with Absa Bank South Africa.
How does Ikhokha card machine work?
Ikhokha card machines are equipped with RFID (Radio-frequency Identification) or NFC (Near Field Communication), which reads the data stored in chips and the magnetic strip of credit and debit cards in order to process transactions.
This data includes the cardholder's name, account number, security code, and all information required to complete the payment process. Payments are authorized when a customer inputs their correct PIN in the card machine or passes a verification check on their mobile phones in case of a contactless Ikhokha card machine that uses a wireless connection like Bluetooth when it's interconnected with their mobile phones.
Which cards does Ikhokha support?
Ikhokha card machine accepts all magnetic stripe and chip cards from payment-processing corporations like Visa, Mastercard, and Maestro, such as;
* Credit cards
* Debit cards
* SASSA grant cards
* Gift cards
Ikhokha card machines cannot process payments from all non-Visa, Mastercard & Maestro cards, Diners Club International, and American Express (AMEX).
How much does iKhokha charge per transaction?
A transaction rate or purchase rate is the number of payments made against a base metric like the number of customers or users. It is the prices to be paid by the merchant to the service provider, in this case, the Ikhokha fintech startup.
In South Africa, Ikhokha card machines charge the lowest possible transaction cost of 2.75% (excl. VAT) on all transactions ignoring trade volume. However, transaction rates decrease with an increase in monthly turnover funds. In simple terms, the business owners lower their cost of transacting, the higher the trading activity.
Here are Ikhokha card machines' transaction rates in South Africa:
| | |
| --- | --- |
| Monthly card volume | Ikhokha transaction rate |
| R0 – R40,000 | 2.75% |
| R40,000 – R60,000 | 2.65% |
| R60,000 – R80,000 | 2.55% |
| R80,000 – R100,000 | 2.50% |
| R100,000+ | Get a custom low rate |
Note that Ikhokha card machines have zero monthly fees as they may be purchased once-off or on a financing plan. Merchants who acquire it on a financing plan have a weekly payment plan of over 16 weeks.
Types of Ikhokha card machines and pricing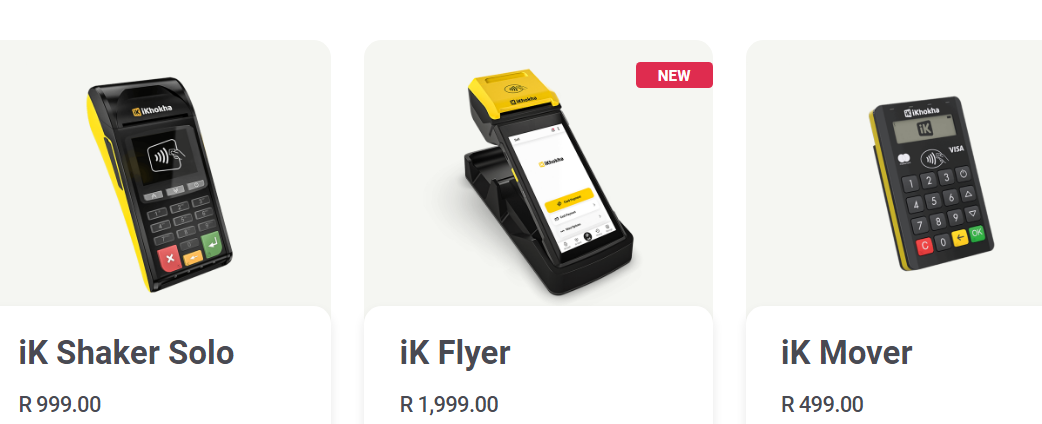 There are three types of Ikhokha card machines – iK Shaker Solo, iK Flyer, and iK Mover – but they all come with generous plans that are perfect for big business and SME owners. The prices of these card machines differ due to complexity and capabilities, but they are all affordable and user-friendly for beginners and tech-savvy personnel.
Let's take a look at each Ikhokha card machine, prices, and specs:
iK Shaker Solo (SIM included)
Buying price: R999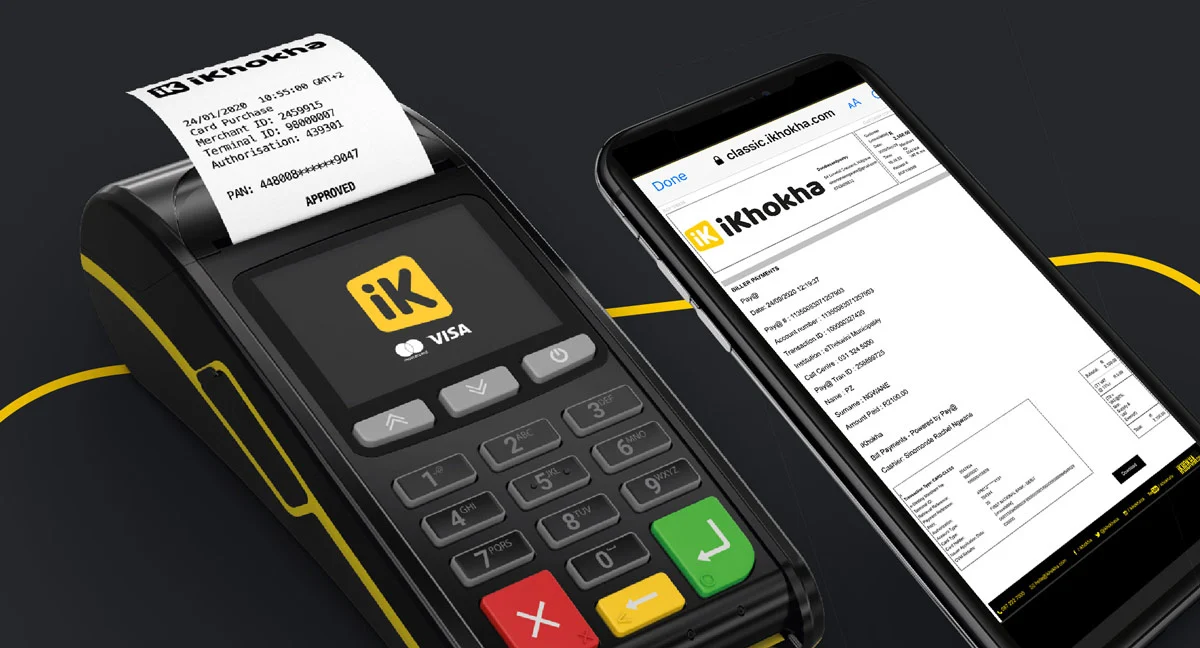 'Ikhokha' iK Shaker Solo is a card machine designed to accept the widest range of card payments from Visa and Mastercard corporations. It has many innovative features that enable it to connect to a Wi-Fi network and print receipts to itemize purchase information.
Here is iK Shaker Solo product information:
* Built-in 4G SIM card at R49 per month
* Connects to Wi-Fi
* Has VAT auto-calculation functionality
* Has tip functionality to accept payments
* Has inbuilt receipt printing abilities
* It is a standalone device and works without a smartphone
* Processes payments from all Mastercard and Visa cards
* All-day Battery Life
When you buy iK Shaker Solo, it comes with an Ikhokha merchant pack, one wall charger, and a 57mm thermal till roll for printing receipts. While using it, you will have the advantage of keeping your current bank account, but you will pay a daily settlement fee of R2.50. Funds settled will be transferred to your business account within 2 – 3 business days.
iK Flyer
Buying price: R1,999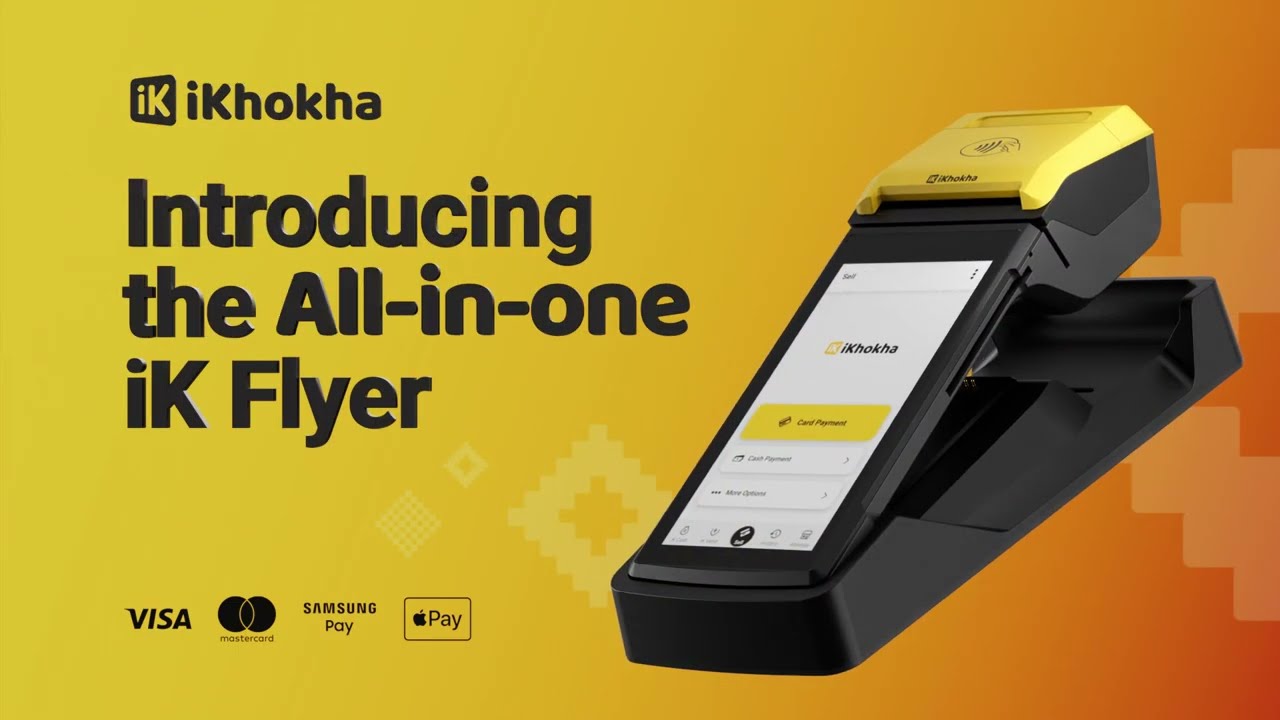 iK Flyer is a card machine tailored to offer modern payment solutions to larger businesses with busy economic activities on trading days. It is due to its speed of processing transactions while providing real-time sales reports and its ability to email receipts.
Here are detailed specs for iK Flyer:
* Accepts all Mastercard and Visa cards
* Tap, swipe or insert credit and debit cards
* It regularly auto-updates with new features
* Has Wi-Fi and 4G SIM connectivity with unlimited data
* High-capacity removable battery
* Includes a fast and secure charging base
* Prints or email receipts
* HD touchscreen 5.5" for easy navigation
After purchasing the iK Flyer at R1,999, you will find a charging base, USB-C wall charger, 57mm x 40mm receipt paper, tent card, setup guide, and an Ikhokha sticker in its box.
While using the iK Flyer, you will pay a daily settlement fee of R2.50 and a low transaction rate of 2.75%, exclusive of VAT.
iK Mover
Buying price: R499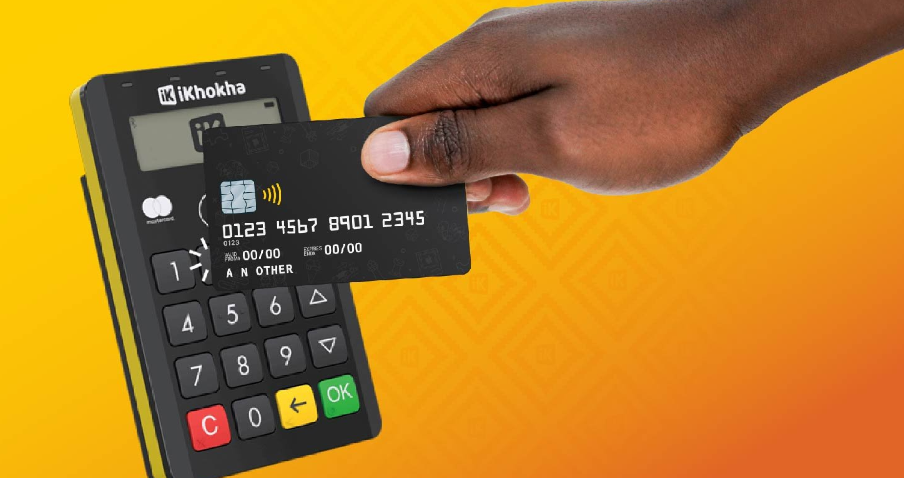 iK Mover is a small card reader of a size that can fit into your pocket. It offers top-notch payment solutions for small businesses, and its purchase price is R499.
Its timely reporting and in-depth sales analysis make it one of the best card machines to have in South Africa. Here is iK Mover product information:
* Accepts all Mastercard and Visa cards
* iOS and Android devices are compatible
* Has Bluetooth connectivity
* Tap, swipe or insert credit and debit cards
* Sends digital receipts
* All-day battery life
iK Mover weighs 316g and comes with one USB cable, a wall charger, and an Ikhokha merchant pack.
A daily settlement fee of R2.50 and a low transaction rate of 2.75% apply when using the iK Mover card reader.
How to use IKhokha card machines
Ikhokha card machines comprise iK Shaker Solo, iK Flyer, and iK Mover. Here is a guide on how to make payments with the help of the Ikhokha app, which is available on the Google Play Store, Huawei App Gallery, and Apple Store:
1. Download and Install Ikhokha app on your phone
2. Open Ikhokha app and select payment type – cash, card or Masterpass
3. Enter the payable amount
4. Tap the +button to add the amount to your bill
5. Click on the green arrow on the top menu and select charge
6. Insert your card into the Ikhokha card machine
7. Confirm the amount and enter your PIN to complete the transaction
Upon authorizing the transaction, you will have an option to email or SMS the receipt if you are using iK Mover and a choice to print them if you are using iK Flyer or Shaker Solo.