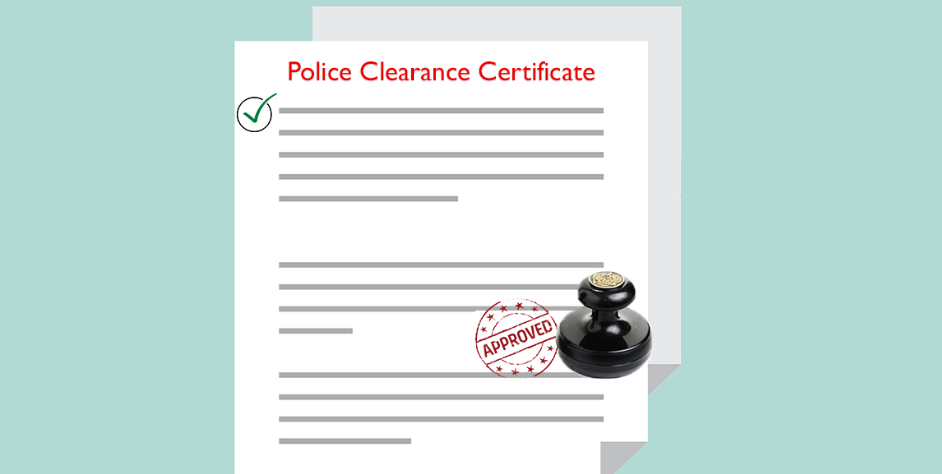 A South African Police Clearance Certificate (PCC), SAPS365, is a document issued by the Criminal Record and Crime Scene Management (CR & CSM), certifying that the applicant has never partaken in any criminal activity that led to convictions by the police.
One requires a Police Clearance Certificate for immigration or employment purposes locally and abroad. Here is how to get a PCC in South Africa, requirements, binding costs, waiting time, and all you need to know about the certificate provided only by the Criminal Record and Crime Scene Management in Pretoria:
What documents are needed?
Before getting a Police Clearance Certificate in South Africa, you must provide the following:
* Full set of fingerprints of both hands duly attested by South African police on SAPS 91(a) form. Those living abroad can visit the South African embassy for fingerprint analysis.
* A dully filled prescribed application form. Download the Police Clearance Certificate Application form here.
* A self-attested copy of identity document; either passport or South African ID.
* Clear copies of marriage certificate if married, should a maiden surname or other names be required for a PCC.
How much does a clearance certificate cost?
The South African Police Clearance Certificate costs R160 per application. This is a one-off nonrefundable fee payable either through cash at the nearest police station or through Absa Bank account number 4054522787; branch code 632005; swift code ABSAZAJJXXX.
On the other hand, when you use notaries and apostilles for a faster mode of the Police Clearance Certificate processing, additional costs apply depending on your sense of urgency.
How long does it take?
Getting a Police Clearance Certificate in South Africa takes approximately 14 or 15 working days from the date when all documents are received at SAPS's Criminal Record Centre in Pretoria. But note that; the processing of a PCC may take up to three months because they are reviewed on the 'first come, first served' means.
Additionally, the processing time increases if the applicant was ever charged by the police.
However, the speedy method of getting a PCC takes only 5 to 7 days, but this expedited application process is quite expensive.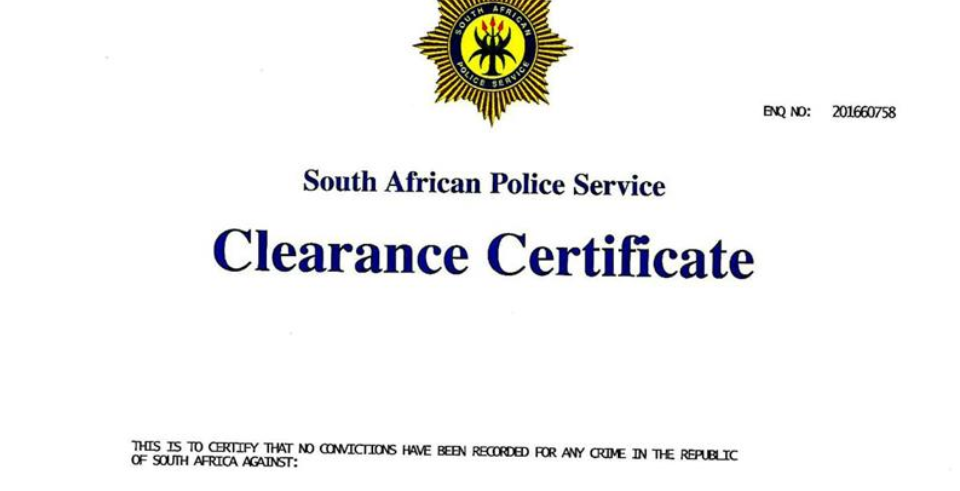 The fastest way to get a Police Clearance Certificate
Time is money. To add salt to the injury, it awaits no man. Getting a Police Clearance Certificate in South Africa takes like two weeks, and for time-sensitive happenings like visa applications, you need an urgent SAPS365 lest you lose that chance.
Apostil.co.za, a registered courier with Criminal Records Centre (CRC), helps applicants obtain the Police Clearance Certificate in the fastest way possible with timeframes of 5 to 7 days or even less than 3 working days.
This is because Apostil.co.za collects the required documents; SAPS 91(a) fingerprint form, copy of identity document, marriage certificate (if married), and the completed application form directly from the applicant, submits them directly to SAPS, cutting through intermediaries, waits for finalization and delivers it to you. Easy!
However, before opting for this fastest way of getting a Police Clearance Certificate in South Africa, you must write a confirmation of why you need the process to be expedited. Apostil.co.za's Police Clearance Certificate processing fee is R6,350 for an extremely urgent PCC and R4,950 to R5,500 for a priority service clearance certificate.
What is a SAP69 form?
A SAP69 is not a Police Clearance Certificate. It is a form produced after an Automated Fingerprint Identification Service (AFIS) background check to identify whether an applicant has any criminal history or pending cases in court.
It is an AFISwitch hard copy report (SAPS69) only generated when a person has criminal records. It contains the applicant's full name, ID number, offense, date of occurrence, charges, case number, verdict, or the date of the ruling if the case is still under probe.
How to check your criminal record online
It is easy to check one's criminal record in South Africa online through third-party sources that have access to the AFIS network and Criminal Records Database at the Criminal Records Centre (CRC) in Pretoria.
The best example of a website where you can check your criminal records online is HURU. It is the best tool to access your online criminal record in South Africa, thanks to its user-friendly interface for an impressive visual design and easy information accessibility.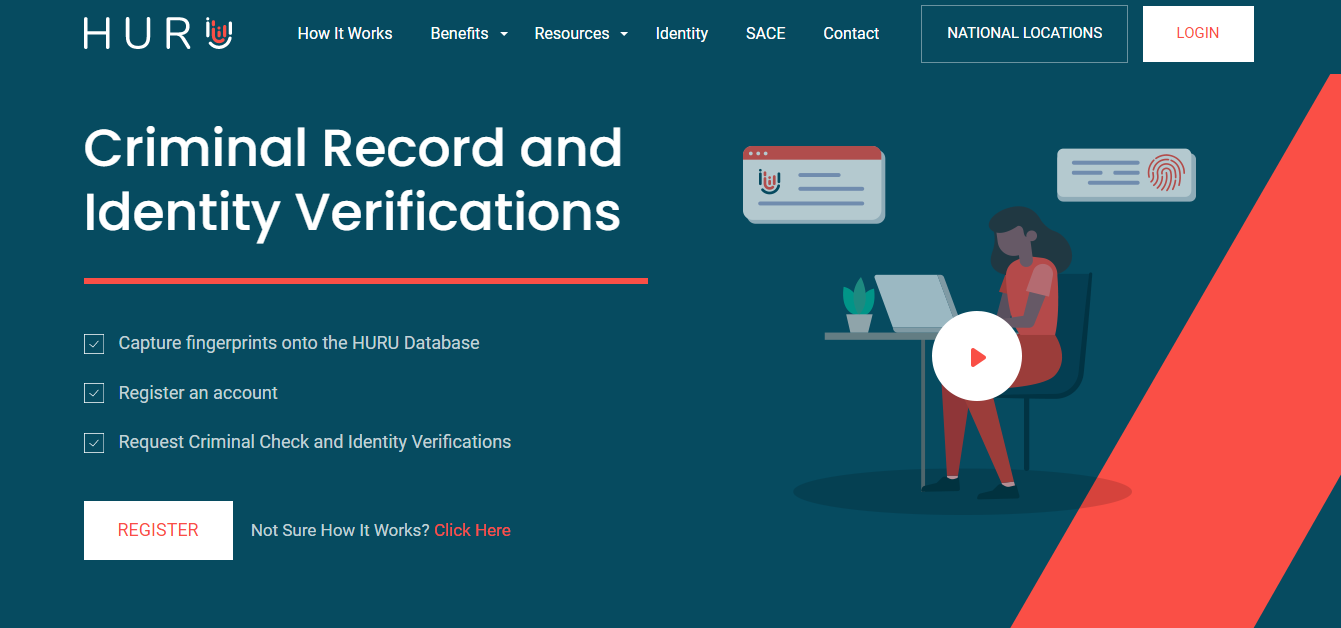 To check your criminal record on HURU, follow the steps below:
1. Visit Huru.co.za
2. Register using your name, ID number, email, and phone number, or log in if you already have an account
3. At the top right of your screen, tap 'NATIONAL LOCATIONS' to find HURU capture locations in your area
4. Visit your nearest HURU capture location or order HURU mobile partner to take your fingerprints
5. Access your HURU profile and authenticate the online criminal record process
You will be required to state your reason for a background check before getting the results. Further, checking your criminal record online using HURU costs R165 to R400, depending on how fast you need the results.
HURU's online criminal record check is 100% efficient because fingerprints are verified against the SAPS database for criminal record verification and the Department of Home Affairs (DHA) database for identity verification.