There are many investment options in South Africa. One can decide to sink their money in cryptocurrencies, RSA Retail Bonds, and money market funds, but have you ever thought of buying or owning a real estate as one of your investment strategies to create a balanced investment?
Well, it is good to have a diversified investment portfolio to ensure present and future financial security.
Property investment in South Africa is considered lucrative and stable because they are somehow unaffected by daily swings in market value.
Both starters and seasoned investors can reap big from real estate owing to its many means of investing that don't really require background knowledge but deep research on market trends.
What does real estate investing entail in South Africa?
Real estate is an immovable property such as land or a house. Real estate investing in South Africa has to do with permanent developments on land and houses, either through natural or artificial means to enhance its value to accommodate all human wants.
For instance building roads, bridges, fences, and tapping other environmental resources such as water.
Types of real estate in South Africa
There are four main types of real estate you can invest in:
* Residential real estate – this is the most popular type of real estate investment where you buy or lease properties such as townhouses, duplexes, and mobile homes and rent out or sell them to individuals for shelter.
* Commercial real estate – it involves purchasing or leasing a commercial space for businesses like malls and restaurants at designated places with ease of doing business, such as in towns and cities.
* Industrial real estate – unlike commercial real estate, you have to be keen on choosing an area for industrial real estate investment. It entails acquiring a space for industrial use, and this can be away from residential areas to ensure people are unaffected by industrial operations, which can be noisy or endanger humans; for instance, if it is for a battery manufacturing facility.
* Land real estate – this form of real estate investing in South Africa involves buying land for prospection. You buy underdeveloped land and improve it by constructing roads and water supply networks to meet its eventual use like agricultural or settlement purposes.
Is real estate a good investment in South Africa?
Absolutely yes, because property owners stand to benefit whenever a house value shoots and lending rates increase. However, this has to be in line with a stable economy and an earning population that can afford to buy or lease the property.
As of 2022, the lending rates in South Africa rose by 7.75%, but this is a disadvantage to the buyers because of the ailing economy.
With the increase in population, the demand for houses and land is high, and with limited supply, the prices of real estate have hit soaring heights, and it is becoming expensive to afford for the majority of South Africans.
Simple ways to invest in real estate in South Africa
1. Rental properties
This is simply buying or constructing houses for renting to tenants.
It requires a substantial amount of capital to start, but once you have already established one, it will create a regular stream of rental income, and also, its prices can appreciate over time.
However, there are risks of financing maintenance when there is property damage, and you can also suffer a reduced income due to potential vacancies. According to a comprehensive rental market analysis by PayProp, the average national rent increased marginally from R7,746 to R7,778 in 2021. This was a 1.5% year-on-year (YoY) increase – the fastest rise since July 2020.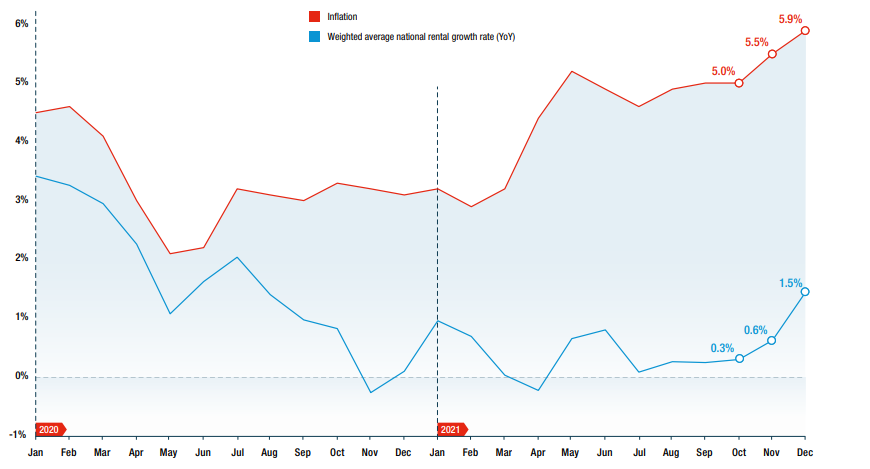 2. South African Real Estate Investment Trusts (REITs)
Real estate investment trusts (REITs) provide a hands-off experience for those who ideally want to own real estate but want to avoid the hassles of running it. It works like mutual funds and offers a capital cushion and access to funds.
What you need to do is: choose a reputable company, invest with them and wait for your dividends at the end of each month, quarterly or yearly, depending on your contract. Some of the best REITs in South Africa listed on the Johannesburg Stock Exchange (JSE) include Acsion Ltd, New Frontier Properties Ltd, MAS Real Estate Inc, and Lighthouse Capital Limited.
Through REITs, you own a property, but the company manages all the units, handles marketing campaigns, and covers maintenance costs. In exchange for these services, the company takes a certain percentage of monthly rent.
3. Real estate flipping
This is buying and renovating undervalued houses and selling them at a profit. You need to have a vast experience in real estate valuation and marketing to be successful in this field.

Before buying a house for renovation, you need to ensure the intrinsic value merges with the prospected profits by conducting objective calculations and complex financial analysis to determine the buying price.
Real estate property flippers must have ready capital to finance the improvement of the project before the hot markets cool rapidly. This way, they will be sure of quick returns.
4. Real estate crowdfunding
Real estate crowdfunding in South Africa makes owning property easy and affordable to anyone through online investing platforms where investors meet real estate developers.
One of the real estate crowdfunding companies in South Africa is Crowdprop. It provides access to a range of lucrative property investments across South Africa and offshore from as little as R10,000.
Through online real estate platforms, you stand to have a diversified investment portfolio across different geographical locations, and you can invest in single projects or portfolio of projects at the same time.
5. Leasing
Do you know you can own real estate with little or no money at all? This is through leasing – a contractual agreement between the buyer and the seller of real estate that stipulates the payment for a use of a property.
You can lease property from companies such as Trafalgar and commit to paying the balance plus the interests in installments. This is the easiest way of owning real estate in South Africa if you have little or no money.
Now read about Refinancing Your Home in South Africa