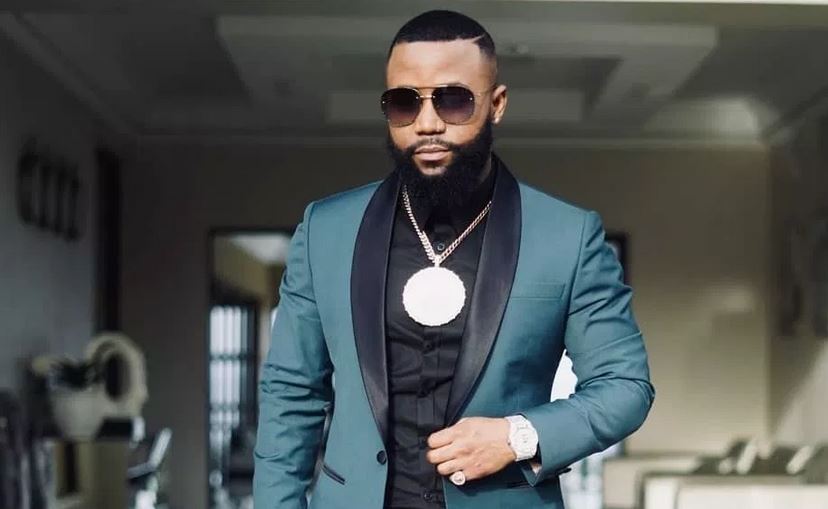 South African artist Cassper Nyovest has been slammed on Twitter for expressing his desire 'to be Nigerian'.
Cassper was responding to a Nigerian fan, who said that he wished the artist was from his home country.
"I just wish you from Nigeria …..you are a good man and talented too ….always speaking the truth and being real… One love man" @onyesprills tweeted.
Unexpectedly, the rapper replied that the thought has crossed his mind, and that he in fact wished he was Nigerian too. His reasons being how Nigerians appreciate their local artists, and how they play local content on radio and TV 90% of the time.
"Won't even lie. I wish i was from Nigeria too. The love they have for their own artists, the way they celebrate their culture, 90% local content on radio and Tv, there way they celebrate their music no matter where they are in the world, the unity within their industry. A DREAM!" he tweeted.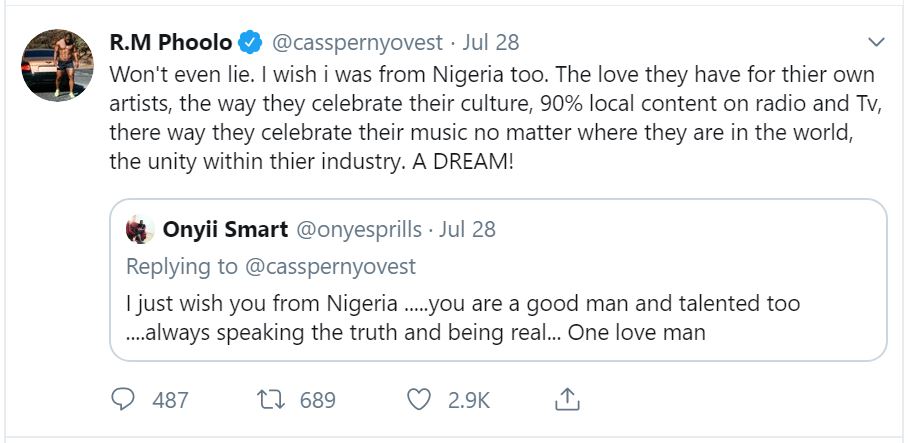 Read: Zodwa Wabantu Undergoes 'Vaginal Tightening' Surgery
However, South Africans in the comment section were not having any of that.
"67k South Africans filled up a stadium to watch you yet now …. never mind. Some weren't even your target audience yet they went there so they can help you fulfill your dream. But now… you want to be Obi," one person asked.
Even Nyovest's biggest rival AKA had a field day.
SOUTH AFRICA is a fucking miracle, and BEING SOUTH AFRICAN is a fucking honor and a privilege. Don't let anyone ever tell you any other nonsense!!!! 🇿🇦💯

— AKA (@akaworldwide) July 29, 2019
You cannot disown your own people and in the next breath want to LEAD them. Somebody had to say something. Unfortunately or fortunately(depends on how you look at it) … somehow it must always be me. Goodnight. My work is done here on this stupid app nxaaa.

— AKA (@akaworldwide) July 29, 2019
AKA, aka Supa Mega, aka BHOVA, aka Snippet Lord and Savior aka CAPTAIN SOUTH AFRICA 🇿🇦!!!!

— AKA (@akaworldwide) July 29, 2019
Don't EVER be shy about being proud of your country … THAT IS WHAT WE CAN LEARN FROM NIGERIA!!!

— AKA (@akaworldwide) July 29, 2019
Here are some of the other bitter replies.
Last year he said he always wanted to be African American.

— Siphiwo X (@SipiwoLolo) July 29, 2019
So says someone who's fill up was filled by South African who is a brand ambassador because of South African's support. What more do you want from South Africans we can take you thus far, the next step is your move Abuti.

— DumiGwebuEdits (@dumigwebu) July 29, 2019
Okay Cassper if Nigeria is all that "good" why are they all here? In Nigeria its only the talented ones and the president who are still there and the rest are here dealing all kinds of narcotics. pic.twitter.com/5CZJsjGkXG

— Ma- Eh (@loveric3000) July 30, 2019
Cassper is one of the most loved artists in the country but always complains about not being loved. That's really disrespectful to his fans!

— Trev (@Tokyo_Trev) July 30, 2019