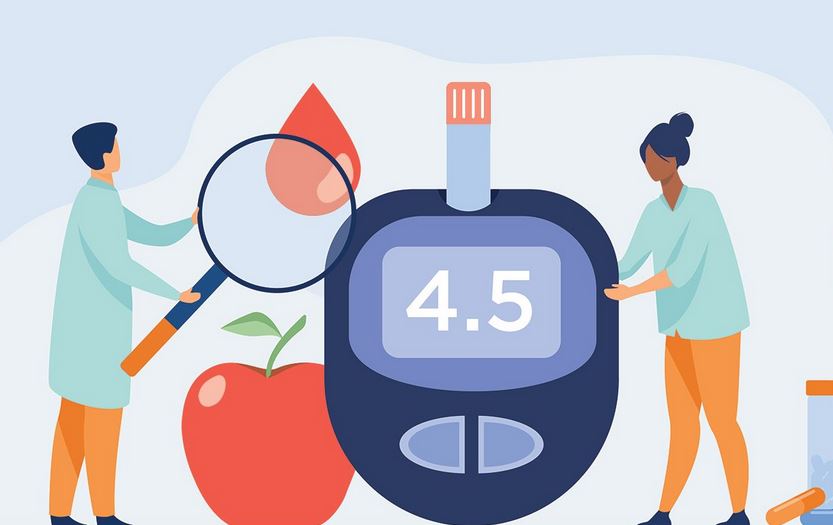 With most South Africans still not covered by a health insurance or medical aid scheme, there is still a large pool to tap from.
By latest estimates, less than 20% of South Africans have health insurance. The situation is especially dire among the black community, where only 10% are covered, as opposed to 75% of white South Africans who are members of a medical aid scheme.
What this means is that there are millions upon millions of South Africans with all types of conditions that are excluded from proper and efficient healthcare, who instead have to rely on our dysfunctional public healthcare.
If you fall in that category and wondering whether your pre-existing condition disqualifies you, we will try and set the record straight.
---
Can you join a medical aid scheme with a pre-existing condition?
Absolutely yes. By law, medical aid schemes are not allowed to discriminate against any person on the basis of them having a pre-existing condition.
It doesn't matter whether that condition is diabetes or hypertension or asthma or HIV. You are free to apply to any scheme and they will accept you as a member.
In fact, one of the most common 'pre-existing' condition that South Africans have the most questions about is pregnancy. In a previous article, we comprehensively answered the question of whether you can get medical aid if you are already pregnant.
*******************************
There is however a catch.
To ensure that the schemes function well without selective abuse, there is a waiting period for every pre-existing condition. First of all, there is a waiting period of 3 months for every claim, meaning that for the first 3 months after you start paying premiums, you cannot make any claim.
This is meant to sift out people who only rush to gain membership when they need it, and then leave the scheme soon after benefiting.
For pre-existing conditions, this waiting period is 12 months. So, the scheme will not cover any treatment related to your pre-existing conditions for the first 12 months.
You will however be covered for anything unrelated. For instance, having HIV should not stop your scheme from paying your hospital bill if you accidentally break your leg.
The same applies for the most common pre-existing condition, pregnancy. Applying for a scheme's membership while already pregnant will leave you uncovered for any pregnancy related services for the first 12 month.
---
Does Discovery Medical Aid have a waiting period?
Discovery is the country's largest open medical aid scheme. As a result, most questions are specifically aimed at their plans.
The simple answer is yes, Discovery does have a waiting period.
According to the Medical Schemes Act 131 of 1998, medical schemes are given to prerogative to apply waiting period, and all of them in South Africa have taken up that offer.
Discovery's waiting periods are in line with other schemes. i.e. 3 months general waiting period, and 12 months conditional waiting period.
This is how they break them down.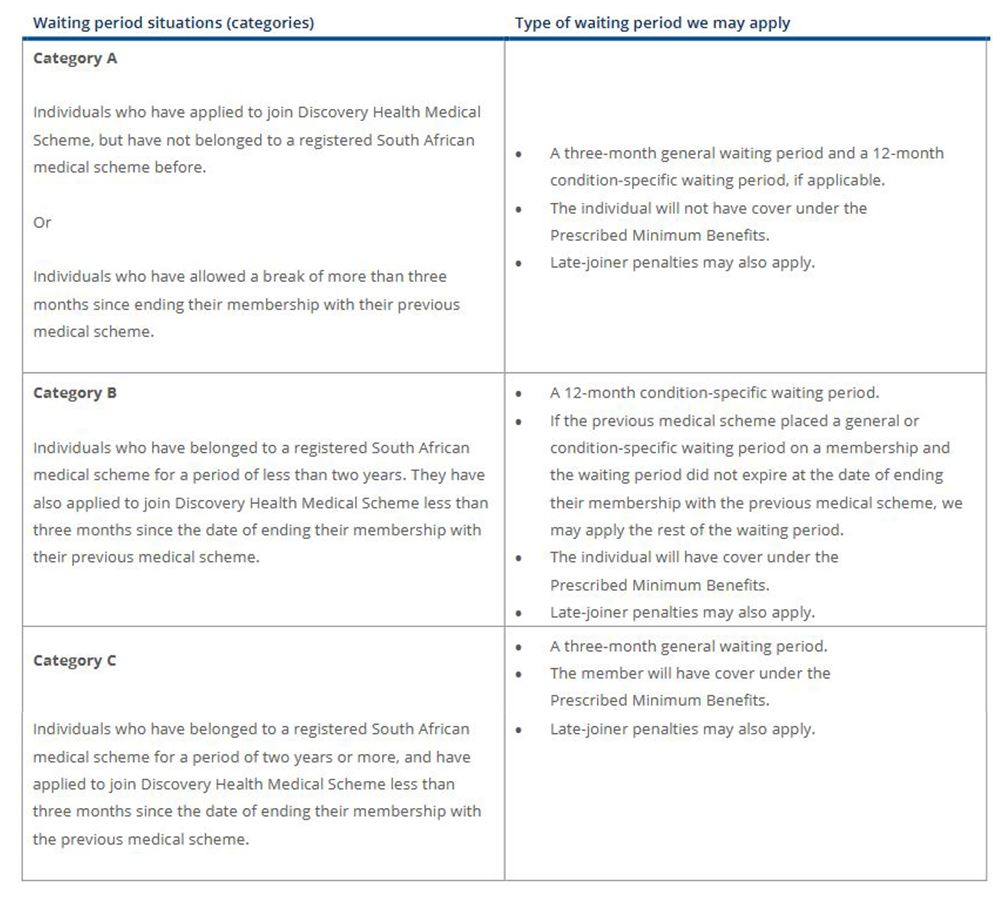 Discovery late joiner penalties
Something closely related to waiting times is the late joiner penalties.
In the same Act of 1998, medical schemes were allowed to institute penalties to members who joined their schemes later in life when they are more likely to need expensive healthcare services.
As Discovery puts it, "Late–joiner penalties were introduced to protect medical schemes from people who wait until they are sick or older to join. Late–joiner penalties encourage people to join a South African medical scheme while they are still young and healthy."
Discovery calculates the penalty using the applicant's age when they apply to join and the number of years they did not have medical scheme cover since the age of 35. This excludes any period of cover as a dependent under the age of 21.
*************************
Definition of a late joiner:
* Is 35 years or older and
* Was not a member or a dependent of a registered South African medical scheme (foreign schemes and insurance policies are not recognized) on or before 1 April 2001 or
* Has allowed a break in membership of more than three consecutive months since 1 April 2001
Depending on the number of years you have not had insurance after the age of 35, your penalties range from an extra 5% to 75%.