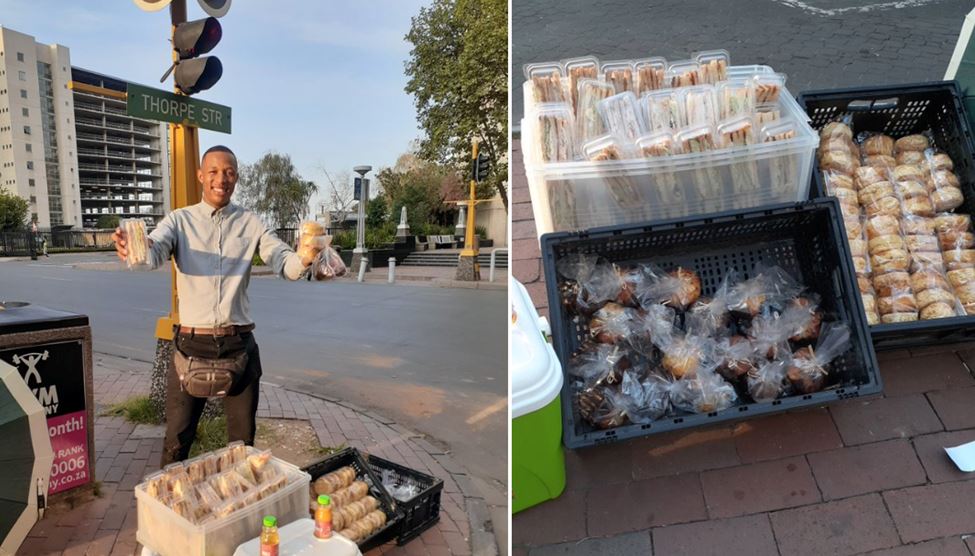 A 27 year old South African has inspired the whole country after lifting himself from the verge of brokenness to generating a steady income.
Six months ago, Itumeleng Lekomamyane had R800 between him and poverty. He was in a serious dilemma on whether to pay his 3-year old daughter's maintenance, or use the money to start a business.
"I had a choice to either pay my three-year-old's daughter's maintenance, or use the R800 to start my business. I chose to rather risk it," Lekomamyane told Business Insider South Africa.
He opted for a longer-term view and went ahead to start his business. Lekomamyane even documented this special day on Twitter.
"I started a new business today,it's called "sandwich nton ntons by ITU " based here in the CBD R18 each,to place your orders hit me up on WhatsApp.." he tweeted on August 13.

I started a new business today,it's called "sandwich nton ntons by ITU 😎" based here in the CBD R18 each,to place your orders hit me up on WhatsApp on 0784273500 or call 0659372131 pic.twitter.com/0DkCiu9ThA

— Itumeleng (@sandwich_keeng) August 13, 2019
He first started selling at the MTN taxi rank in the CBD, before following that up with other locations at Bree taxi rand, Standard Bank corner and at the SABC studios in Auckland Park.
He uses a unique approach anytime he opens a new location. He revealed that he first spends 3 or 4 weeks at the new location, building relationships with customers. After that he hires someone to continue selling as he moves on to another location.
Read: Vegan Lifestyle Grows in South Africa as Retailers Stock More Meat Alternatives
"After a few weeks, the customers know me and know my offering; they trust what I am selling so I don't have to be around anymore," Lekomamyane says.
The people's breakfast will be back on the streets tomorrow morning at our various stations at 05:30 as #SandwichNtonNtons resumes for work in 2020@sammy_afrika at MTN @AneleBuma1 Standard bank Simmonds Total garage

Meshack at cnr Bree

May we all have a beautiful start pic.twitter.com/ci5PodFpEk

— Itumeleng (@sandwich_keeng) January 5, 2020
His daily routine is not your everyday kind. Together with a business partner, they sleep in the afternoon between 13:00 and 20:00.
Between 20:00 and 03:00 the following day, they are making the sandwiches and getting ready to start selling.
By 04:00, Lekomamyane will have dropped all his sellers at their different locations using his small car. They will remain there until around 10:00, when he leaves to go buy the next day's supplies. Twice a week, he uses this period to go to the bank to deposit the money he has earned.
All the sandwiches are handmade in his own house kitchen.
The businessman reveals that the margins are great, sometimes being over 80%. He says he saw a gap in the market, observing that sandwiches were only sold in upmarket cafes and not in the streets.
"The market was under served,"he notes.
His start was not exactly rosy. He has had regular run-ins with private security and even metro police.
"When we started, the private security confiscated our sandwiches and we had to pay R700 to start renting a location at the taxi rank."
"The metro police is also giving us a lot of trouble, asking us to move locations frequently."
Lekomamyane now brings in over R20,000 a month. His dream is to start a chain across South Africa.
"Maybe over a 100 coffee shop locations. When I get tired in, especially in the late morning, I think to myself that I am not where I want to be yet, and I keep pushing forward." he declares.