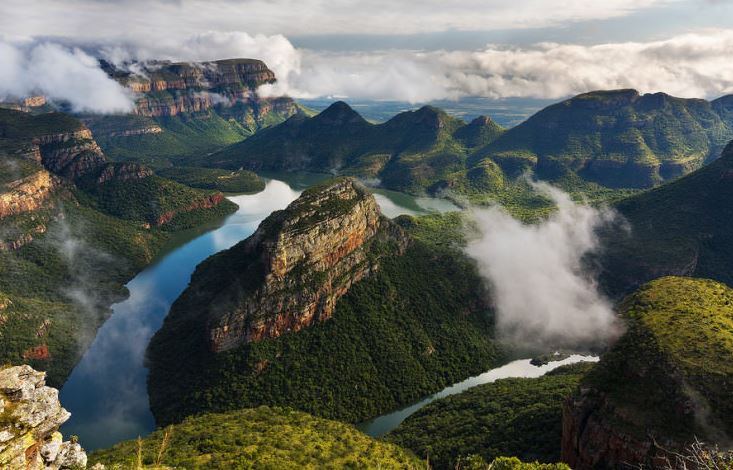 South Africa is rich in natural resources such as diamonds, gold, silver, iron ore, and platinum. In addition to minerals, moderate quantities of natural gas have also been found. The exploitation of these minerals for commercial purposes has led to the growth of the South African economy, transforming it to the richest in Africa.
Below are some of South Africa's natural resources.
Natural resources in South Africa
Minerals
South Africa is endowed with a variety of minerals such as diamond, gold, silver, copper, and titanium.
Gold in South Africa is found at the Witwatersrand gold basin which is the world-largest gold producer. The basin has a stretch of over 400km traversing across the Free State, North West and Gauteng provinces.
Diamond is found at Kimberley which is home to the world's largest diamond mine usually referred to as the "big hole". The hole is about 215 metres deep and has produced thousands of tonnes of diamonds ever since its discovery.
Another mineral is coal which is used in South Africa to generate electricity and is also exported primarily to East Asia and Europe. It is mined at the Mpumalanga and Northern Free State.
Besides being the largest gold and diamond producer, South Africa is also the world's largest producer of chromium and platinum which are mined at Rustenburg.
Arable Land (Land that can allow farming activity)
According to the world bank collection of development indicators, the percentage of arable land in South Africa was reported to be 10.3 in the year 2014. There are extensive areas of land in South Africa where farming can be done. Those areas such as KwaZulu-Natal and the Eastern Cape, have fertile land.
Several crops are grown by South African farmers and the agricultural sector contributes about 3% of the gross domestic of the country besides offering employment to many people in South Africa.
Despite having considerable sizes of arable land, natural and human activities such as prolonged drought seasons and extensive and extensive mining have destroyed a lot of the arable land.
Forests
In areas that receive plenty of rainfall in South Africa, there is a great cover of forests. It is estimated that about 0.47% of South African land is covered by forests. These forests such as the Dlinza forest and Entumeni forest (Kwa-Zulu Natal), Entabeni forest (Western Cape), and Hanglip forest (Limpopo) have diverse ecosystems supporting birds, indigenous trees and natural flora and are among the great natural resources found in the country.
In addition, these forests have offered employment to a number of people in the tourism industry, lumber industry and the building and construction industries.
Unfortunately, the existence of these forests have often been threatened by forest fires, excessive lumbering activities and climate change. The government of South Africa is formulating and implementing strategies to ensure conservation of all natural resources including the forests.
Rivers
Rivers offer a source of beauty, a means of transport, and water for domestic and industrial use. In addition to this, they can also offer a place of adventure and sporting activities such as water rafting. Most rivers also provide a habitat for species such as fish and the vegetation that grows along the banks of rivers.
South Africa has a number of rivers such as the Western Cape's Breede river, the crocodile river in Limpopo, Levubu river and orange river in Lesotho. These rivers form part of the South Africa's natural resources.