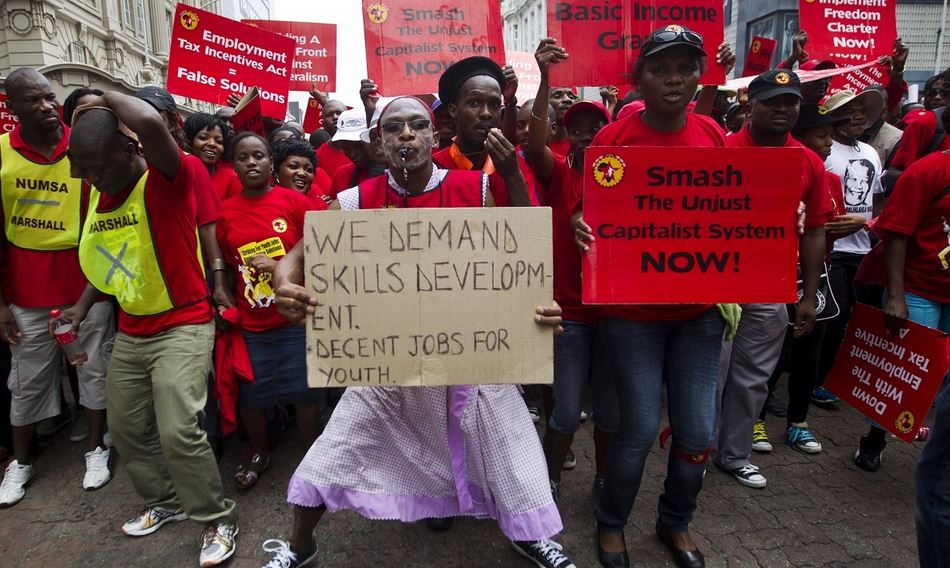 The first trade unions that were formed in South Africa consisted of the whites only and they were focused on entrenching racial discrimination. By the year 1917, the first trade union that advocated for black workers rights (Industrial Workers of Africa -IWA)  was formed and it was based in Johannesburg.
The following years were characterized with formation of many other trade unions and by the year 1940's there was a considerable number of them. These unions have played an important role in shaping the political destiny of South Africa in addition to fighting for the rights of workers in the country.
The trade unions have remained an important force with a membership of over 3.1 million representing a 25% of the formal work force in the country. Below is a list of the top 70 trade unions in South Africa.
List Of Trade Unions In South Africa
Workers Against regression
Yarona kopano workers union of south Africa
Vision Integrated Workers Union (VIWU)
Veld and Forest Union of Workers VFU
University of the Western Cape Employees Union (UWCEU)
University of Pretoria Workers Organisation (UPWO)
University of KwaZulu-Natal Staff Union  (UKSU)
University of Cape Town Employees Union
University and Allied Workers Union (UAWU)
United Workers Front ( U.W.F)
United Private Sector Workers Union (UPSWU)
United National Transport Union (UNTU)
United National Public Servants Association of South Africa and Allied Workers Union (UNIPSAWU)
United Herzlia Schools Teachers Association (UHSTA)
United Democratic Food & Combined Workers' Union
United Chemical Industries Mining Electrical State Health and Aligned Workers Unions  (UCIMESHAWU
Union of Personnel of the University of the Free State (UVPERSU)
UASA – The Union
Trawler and Line Fishermen's Union (TALFU)
Transport, Retail & Amalgamated Workers Union SA (TRAWUSA)
Transport and Allied Workers Union of South Africa  (TAWU)
Transport & Omnibus Workers Union (TOWU)
Togetherness Amalgamated Workers' Union of S.A. (TAWUSA)
Tirisano Transport and Services Workers Union (TASWU)
Thor Transport Action Retail & General Workers Union  (THOR)
The University of Cape Town Academics' Union (UCTAU)
The South African Cricketers Association  (SACA)
Tertiary Education National Union of South Africa (TENUSA)
Target Orientated Trade Union of South Africa (TOTRUSA)
Suid Afrikaanse Onderwysers Unie  (SAOU)
Staff Association of the National Bargaining Council of the Leather Industry of S.A.
Southern African Clothing and Textile Workers Union   (SACTWU)
South African United Workers' Liberation Movement (SAUWOLIMO)
South African Union of the Financial Industry (SAUFI)
South African Typographical Union  (SATU)
South African Transport and Allied Workers Union   (SATAWU)
South African Rugby Players Association  (SARPA)
South African Revolutionary Allied Workers Union (SARAWU)
South African Postal Worker's Union (SAPWU
South African Policing Union (SAPU)
South African Pelagic Fishermen's Union (SAPFU)
South African Parastatal and Tertiary Institutions Union (SAPTU)
South African National Security and Allied Workers' Forum (SANSAWF)
South African Museum Workers' Association (SAMWA)
South African Municipal Workers Union  (SAMWU)
South African Medical Association (SAMA)
South African Liberated Public Sector Workers Union (SALIPSWU)
South African Industrial Commercial and Allied Workers Union (SAICWU)
South African Furniture and Allied Workers Union (SAFAWU)
South African Funeral Parlour and Allied Workers' Union
South African Forestry, Farming, Catering and Allied Workers Union (SAFFCAWU)
South African Football Players Union  (SAFPU)
South African Equity Workers Association (SAEWA)
South African Emergency Personnel's Union (SAEPU)
South African Democratic Teachers Union  (SADTU)
South African Democratic Nurses Union (SADNU)
South African Correctional Services Workers' Union (SACOSWU)
South African Communications Union  (SACU)
South African Commercial, Catering and Allied Workers Union  (SACCAWU)
South African Cleaners, Security and Allied Workers' Union (SACSAAWU)
South African Chemical Workers Union  (SACWU)
South African Cabin Crew Association (SACCA)
South African Amalgamated and Integrated Workers Union (SAA&IWU)
South African Abet Educators Union (SAAEU)
South Africa Private Security Workers' Union  (SAPSWU)
Society of State Advocates and Prosecutors of South Africa  (SSAPSA)
Society Development Trade Union
Socialist Organised Workers' Union (SOWU)
Shosholoza Workers Union of South Africa  (SHOWUSA)
Security, Cleaning, Manufacturing and Allied Workers Union (SCMAWU)