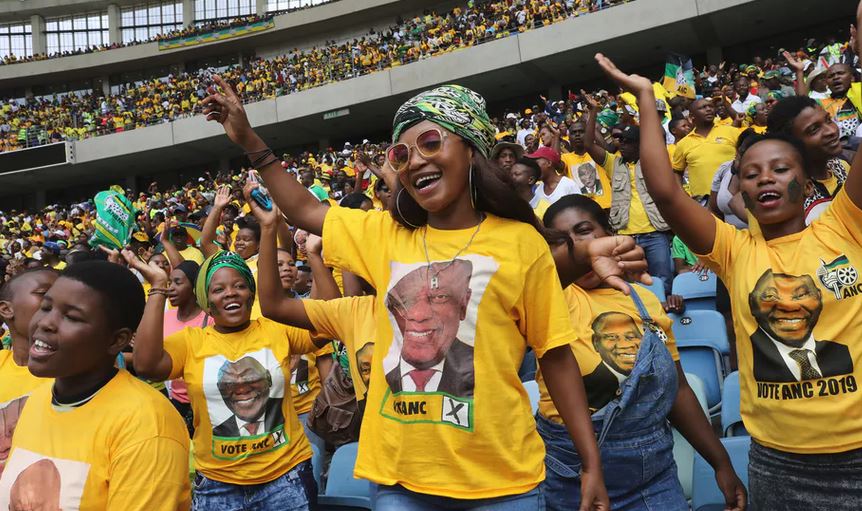 With just days to the election, support for ruling ANC has dipped to below 50%. This is according to the latest IRR poll.
Nationally, ANC support clocks in at 49.5%, down from 54.7% just 3 months ago. Meanwhile the EFF's support has risen from 12.2% in February to 14.9% in April. The DA has remained stable at 21.3%.
The DA has recorded a small bump in black support. "As of April, the DA has demonstrated some small growth among black voters. It currently has the support of 7.4% of all black voters, up from the 6% it secured in 2014 (the ANC is on 61.6% of all black voters and the EFF, 18.7%)."
In Gauteng, ANC still leads with 42.8%, with the DA coming in at 31.9%. The EFF stands at 13%. This means that the province will likely be led by a DA-EFF alliance, as ANC won't record a majority.
In Western Cape, the DA is on the driver's seat as expected, standing at 44.6%. This is however a massive 5.5% drop from what was recorded in February. The ANC stands at 27.8%, down 6.1%. ACDP is number three with 7%, while the EFF comes in at 6.8% – a massive 5.8% increment.
When it comes to racial demographics, 61.8% of black voters support ANC, 18.7% support EFF and 7.4 are for DA.
The numbers flip with white voters, where 68.5% support DA, 10.9% ANC and 0% for the EFF.
This new poll sampled 2,375 registered voters between April 18 and 25. IRR was quick to state that this is not a prediction.
"It is important to appreciate this poll came out of the field with 14 days of the election period still to go. The last weeks of an election campaign are a critical period during which, historically, the bigger parties – particularly the ANC and DA – tend to consolidate their vote upwards, and the vote share of smaller parties declines, as their voters are pressured. This is still likely to happen. A second IRR April poll, to be published on May 6, will aim to determine the degree to which this trend plays itself out, over the final weeks.
"This poll is not a prediction," the IRR said.