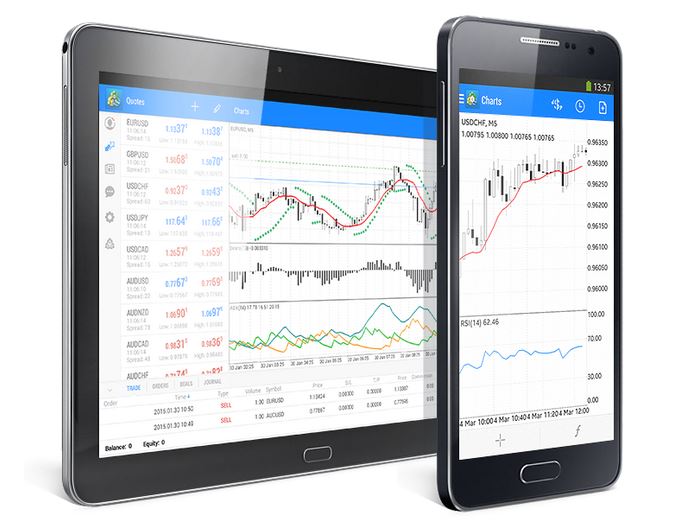 MT5 can be used on all of your devices
https://www.metatrader4.com/en/mobile-trading/android
The Metatrader platform for trading is a powerful platform with lots of features and tools to help traders analyze the market. The most recent version, MT5, is the most advanced one thus far, and it exists in different versions depending on your device.
You can find the MT5 download for PC link or for Mac, or you can use other versions on your mobile phone, tablet, or even online without installation.
Here we will discuss the advantages and disadvantages of each of those versions.
THE MT5 desktop version
The MT5 desktop version has all the options and benefits the platform has to offer. It has all the charting and drawing tools, all the technical indicators, and much more. All the tools are easily within reach with only a few clicks.
You can add expert advisors to the platform to help you automate your trading, or you can add alerts to give you notifications when certain events happen in the markets.
You can also add custom indicators if you have any.
All in all, the platform has so many functionalities. You can request the MT5 download for PC link from your broker (also available on Mac).
The only disadvantage is that it needs to be installed and thus it can be only used on your own computer.
A good alternative in this case is to use the Web trader.
The MT5 web trader
The MT5 web trader version does not offer you the ability to install expert advisors or custom indicators, but it includes almost all the other functionalities.
You can use the drawing tools, the technical indicators, and other useful features. The most important feature in this platform is that it is flexible, and it can be accessed and used on any computer. It does not require installation.
You simply enter your username and password and get to your trading activities.
MT5 mobile version
The MT5 mobile version is available on both Android and Apple phones. It can be easily installed from the app store, and you will be up and running.
The platform has drawing tools and technical indicators available, but the small screen usually limits your ability to see big themes in the market. Thus, it is preferable that you use the desktop or web version if you want to perform technical analysis and see the bigger picture.
Despite this, the platform is quite handy when you want to open or close positions quickly, or when you want to monitor your positions when you are away from your computer.
It is suitable for people who are constantly on the go and trade in different places.
The MT5 tablet version
The MT5 tablet version is very similar to the mobile version, with the exception that tablets usually have bigger screens. This makes it easier to analyze markets if you are traveling and using your iPad for example.
It has several features, but you cannot run automated trading on it.
Summary
The MT5 platform is quite popular, and it has earned its high status since it has a full range of features that dramatically change your trading experience.
What is more, you can find plenty of resources to learn how to use it, even though it is very user friendly and straightforward, even for new users.