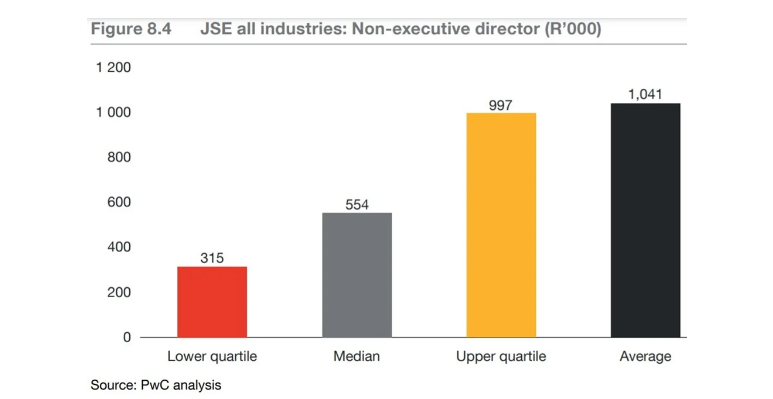 Professional services company PwC has published its report on South African non-executive directors for 2021, highlighting how much top board members are earning in the country. The report focuses primarily on publicly available information, sourced from the JSE, AltX, the FTSE 100, the FTSE 250 and other stock exchanges.
PwC found that the average salary  for lead independent directors is currently R1.06 million annually. This amounts to an average of R33 000 daily.
The lead independent director is required to preside at all meetings of the board at which the chairperson is not present or where the chairperson is conflicted. Their duties include calling meetings of the independent directors, where necessary, and serving as the principal liaison between the independent directors and the chairperson.
Their responsibilities would also include liaising with major shareholders if requested by the board in circumstances in which the chairperson is conflicted.
Also, the report states that the average annual salary was R1.04 million for non-executive directors. Non-executive directors are required to make up the majority of a board's membership and should preferably be independent.
The report also found that the average salary for chairpersons was R1.89 million per year.
"The role of a chairperson is time-consuming as it includes work carried out between scheduled meetings, representing the organisation externally, and interacting with fellow board members and employees," PwC said.
It was found that the average salary was R1.28 million per year for deputy chairpersons.
"It is essential that the chair and the deputy chair have a good working relationship and understand their roles to ensure that duplication or confused direction does not occur," PwC commented.