What is Credit Score?
A credit score is an important tool for lending firms in South Africa. It helps the firms make critical decisions before giving out loans to the borrower. Depending on the loan type needed, the credit score of a borrower must be assessed before the loan is issued out.
A good credit score usually enables the borrower to secure the loan from the lending firm. In the same breath, a bad credit score can prevent you from accessing a loan facility, or raise your interest rate payment.
A credit score is a review of an individual's financial history. It is also known as the credit report. The report contains information about a person's past spending habits, repayment trends, extent of borrowing, bank accounts opened by the person in the past, skipped payments and consequences faced as a result of skipping the payments, and the contact details of the person.
Before giving out a loan, a lender in South Africa will first find out and collect information from your previous lenders and use it to calculate your credit score.
Your credit score will then be used by the lender to determine whether you are qualified for lending or not, and at what interest rate.
A borrower does not have to wait for a lender in order to know his or her credit score. There are a number of ways you can use to know your credit score prior to approaching your preferred lender.
Where to check your credit score in South Africa
It is possible to access your credit score report for free in South Africa. For example, your free credit score is usually updated every 2 weeks on credit.com website. Another way to access the report is through the credit reporting agency. Some of those agencies include:
Experian
Experian delivers solutions to the African credit industry by offering comprehensive and detailed credit information through the help of sophisticated and powerful credit analytics software.
Clear Score
Clear Score provides access to credit score for free. Checking your credit score in a clear score involves setting up an online account and filling a survey after which you can be supplied with your credit score any time.
TransUnion
Transunion is an agency that offers commercial, insurance and consumer information across multiple industries. Besides offering services in South Africa, the agency is also based in other African countries such as Kenya, Rwanda, and Namibia.
How is credit score calculated in South Africa?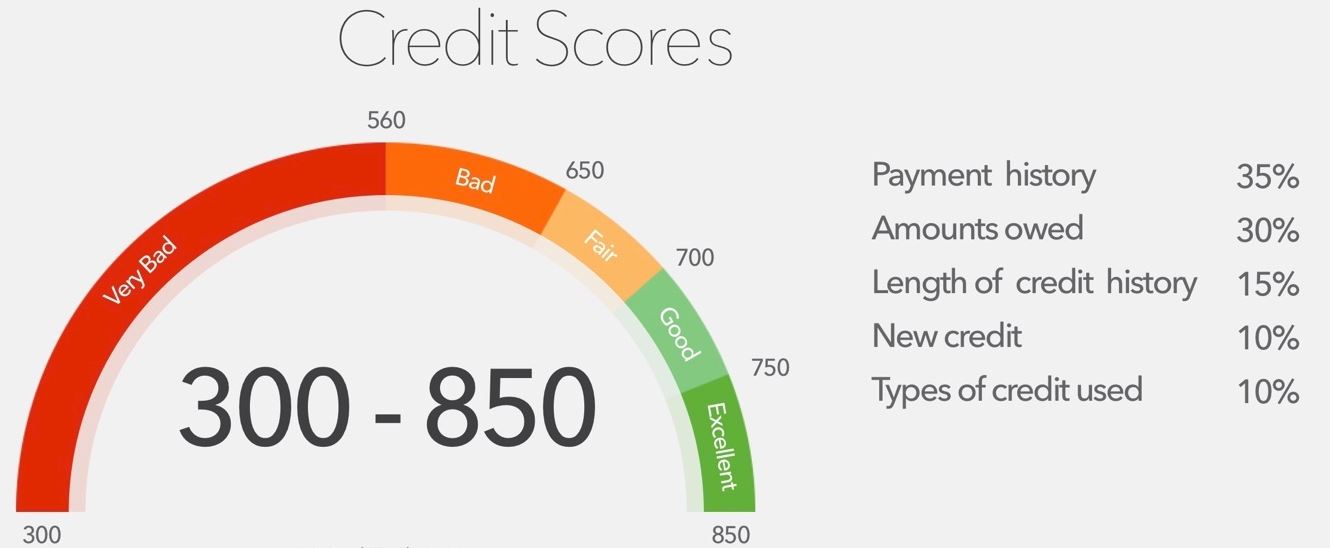 A person's credit score in South Africa is calculated based on the Flair Isaac Corporation (FICO scores) system. This scoring system is based on values between 300 and 850 which represent a score or points.
If a person has a credit score of 700 points and above, that is interpreted as a good credit record. A credit a score of 800 points and above means that a person has an excellent credit record and may obtain loans that are to be repaid back with low interest.
However, obtaining credit score points of between 300 and 579 means that a person has a poor credit record and may be denied a loan, or have their repayment interest rate hiked.
What can you do to ensure a better credit score in South Africa?
There are several things you can do to improve your credit score, they include:
1. Pay your bills with no delays
2. Avoid opening new bank accounts which you do not need.
3. Close all the bank accounts you no longer use.