South Africa is the southern most country on the continent of Africa. By most metrics, it is the most advanced economy on the continent.
Administratively, South Africa is divided into 9 provinces. They include: Western Cape, Northern Cape, North West, Limpopo, Mpumalanga, Eastern Cape, Free State, KwaZulu-Natal, Gauteng, and Free State.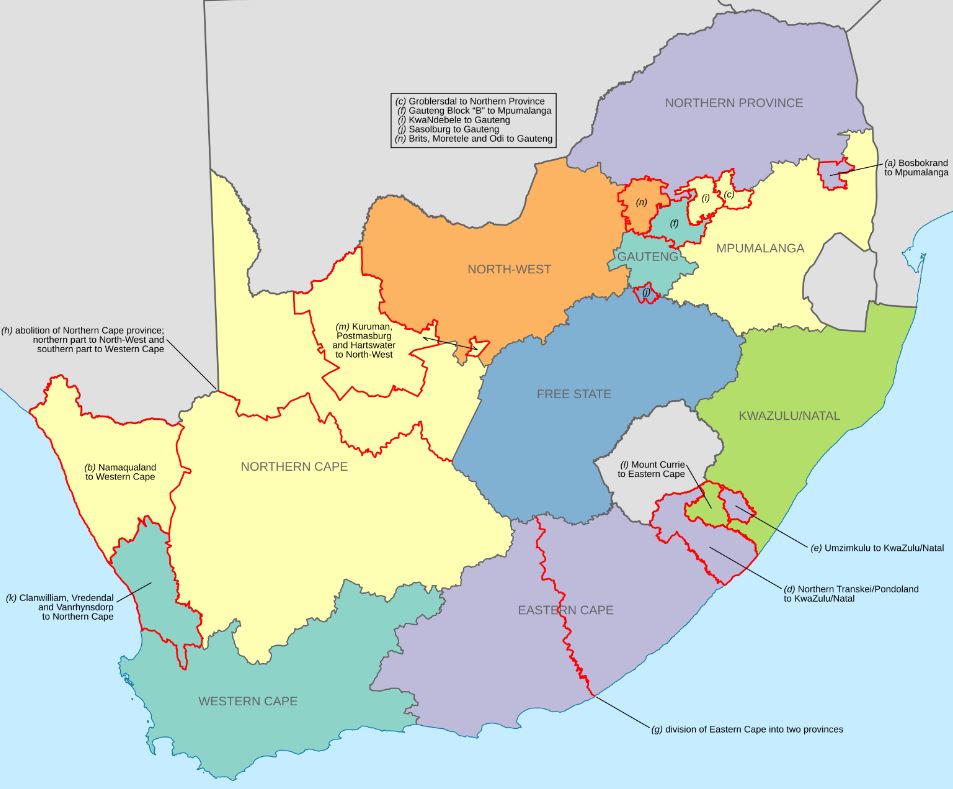 Gauteng
Johannesburg is the capital of Gauteng province. Unlike other provinces, Gauteng is relatively small in size compared to others, covering an area of 18,178 square kilometers which makes it the smallest province in South Africa.
The main languages in Johannesburg include; English, Afrikaans, Sesotho, and isiZulu. In Africa, Johannesburg is a great economic center with multiple businesses center. In spite of being the smallest province, Gauteng has the largest South African population residing in it (14million people).
---
KwaZulu-Natal
KwaZulu-Natal province is the second-most populous province in South Africa, with a population of about 11 million people. With Pietermaritzburg city as its capital, KwaZulu-Natal covers an area of approximately 94,361 square kilometers.
Visitors coming to this province enter through the King Shaka International airport, located on North of Durban at La Mercy.
Among the universities found in this province include Durban Institute of Technology and the University of KwaZulu-Natal.
---
Eastern Cape
The capital of Eastern Cape is Bhisho and it has a population of about 6.5 million. Three principal languages are spoken by residents in Eastern Cape. These include; Afrikaans, English, and isiXhosa. The size of the province is approximately 168,966 kilometers square.
Eastern Cape is rich in a stretch of sandy coast, rugged cliffs, and sea as it is found on the South-East of the South African coast. There is also plenty of natural beauty dominated by green vegetation.
---
Limpopo
Limpopo is one of the few South African provinces rich in wildlife. Located on the northernmost part of South Africa, Limpopo province borders Zimbabwe and Mozambique countries. It has a population of 5.7 million and covers an area of 125,755 square kilometers.
Its capital is Polokwane and the main languages spoken by residents in Limpopo are; Sepedi, Xitsonga, and Tshivenda. There are plenty of hotels and accommodation options to cater for the constant flow of tourists.
---
Free State
Free State is 129,825 square kilometers in size. Three native languages are spoken by the residents; Sesotho, Afrikaans and isiXhosa, and it have a population of about 2.9 million. The most common economic activities carried out in free state include gold mining. There are lots of factories and manufacturing plants in its major towns and cities.
In addition to gold, diamond is also found in Free State in districts such as Koppies. These diamonds are produced from Kimberlite fissures and pipes.
At its capital, Bloemfontein, there are several top universities and schools. The city is the home of the Supreme Court of Appeal.
---
Mpumalanga
Nelspruit is the capital of Mpumalanga province. It has a population of about 4.5 million people. The main language of Mpumalanga province residents are the siSwati, isiZulu, Xitsonga and isiNdebele.
The province's beauty and wildlife abundance have made it one of the top tourist destinations in South Africa. Visitors can arrive into Mpumalanga via several small airports present in the region, an example being the Kruger Mpumalanga International Airport.
---
Northern Cape
This is the largest province in South Africa, covering an area of 372,889 square kilometers. It has a population of 1.2 million which makes it a province with the smallest share of the South African population. Its capital is Kimberley.
The local languages spoken in this province are; Afrikaans and Setswana. Tourists are usually attracted to the province yearly when the spring flowers blossom creating spectacular beauty.
---
North West
North West province lies in the northern parts of South Africa near the border of Botswana. It covers an area of 104,882 square kilometers with Mahikeng as its capital. North West has a population of 3.9 million.
Setswana, Afrikaans, and isiXhosa are the principal languages spoken in the province.
---
Western Cape
Western Cape is located to the South-west of South Africa. It has a population of about 6.6 million and its capital is Cape Town. The province covers an area of 129,462 square kilometers. The main languages spoken in Western Cape are Afrikaans, isiXhosa, and English.