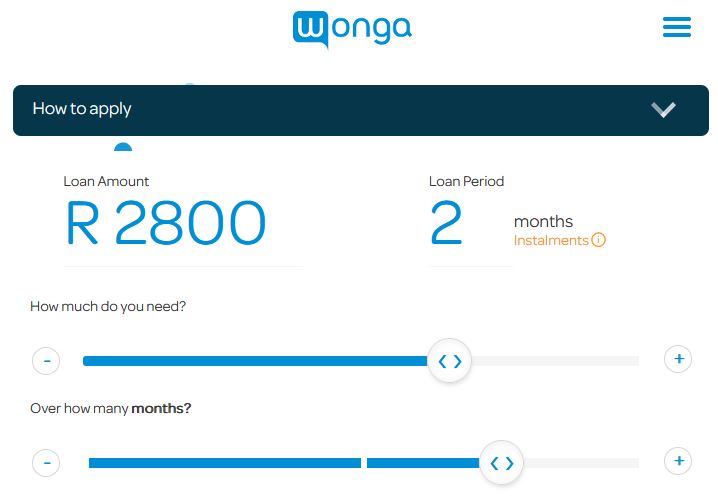 Wonga is a British lender that offers payday loans and other short-term loans in several countries among them South Africa.
They are one of the many lenders whose loan application process is entirely online and automated, which means instant processing and more convenience. The platform uses various markers and pointers to determine how much borrowers can get.
First time borrowers are limited to R4 000, while existing borrowers can get up to R8 000. These loans have a term or up to 6 months for existing customers and 3 months for new customers.
The loan is payable in up to 3 installments.
Requirements to get a Wonga loan
Signing up for a loan from Wonga in South Africa is pretty straightforward. You are only required to provide 4 things:
1. Your cellphone number
2. Your South African ID number
3. Your bank account details
4. Your most recent proof of income.
The application is done online and you will receive a decision on whether you qualify immediately.
However, before they send you any cash, you will need to provide proof of income. This can be your most recent payslip or a bank statement that clearly shows your personal details as well as your income.
This will go through manual verification and then after approval, the cash will be transferred to your bank account.
Advantages of Wonga loans
1. It is very fast: Unlike traditional lenders, loan applications on Wonga are processed extremely fast. After the initial registration and verification, subsequent loans can be processed instantly and the cash transferred to your bank in minutes.
2. It is convenient: There is no recurring paperwork to file, and loan applications can be made from home using a computer or mobile device.
3. Transparent lending: Traditional lenders shroud their terms in mystery, and thus most borrowers end up paying more than they expected. Wonga tells you the total cost upfront and there are no extra fees or hidden charges.
4. Responsible lending: Unlike credit card providers and other lenders, Wonga does not extend your existing balance after the repayment period has elapsed. Further, Wonga is not in the business of trapping vulnerable borrowers. They discourage people who may have problems repaying from borrowing.
5. Early repayments: There are no penalties when you make an early repayment, something that is quite common in traditional lending.
6. Unsecured loans: Since you are not required to provide any security or collateral, Wonga loans are accessible to more people.
Disadvantages of Wonga loans
1. Limited loan options: Wonga is obviously not for everyone. Their loan amounts are very small, and cant be used to finance things like cars.
2. High interest rates: Short-term loans notoriously have high interest rates. With a monthly interest rate of 5%, the effective annual interest rates for Wonga loans is 60%. This is way higher than traditional loans whose annual rates are less than 10%.
3. No physical office: Some people are still comfortable visiting bank branches to negotiate and apply for loans. Wonga does not provide this, which may be disconcerting for some. This also means that you have nowhere to visit if you need to re-negotiate your terms.
What if you don't pay your Wonga loan?
In any lending situation, there will always be bad characters. Not everyone who takes a loan is expected to repay it. In fact, due to the ease of borrowing money online on platforms like Wonga, default rates are usually very high.
Once your Wonga repayment period has elapsed, the lender will contact your bank and attempt to make a collection. Occasionally this request may be granted, but banks mostly decline or are unable to help due to insufficient funds.
If that is the case, Wonga's collection team will reach out to you directly to discuss the situation. They will offer you various solutions, which might include additional repayment period.
If both parties cannot come to an agreement, or Wonga was unable to reach you, your account may be passed to an external legal collections partner. During this period, no on-going charges will be applied, but interest and service fees will continue to mount on your balance. Recovery costs may also be added to your account.
If you continue to default, Wonga will forward your records to credit bureaus, which will then affect your credit score. Eventually, you'll be blacklisted from Wonga.
Read: What is a Good Credit Score in South Africa?
5 South African Loan providers like Wonga
Here are 5 South African lenders offering similar loans to Wonga.
1. Lime loans
First time loan limit: R5 400
Est. APR: 58%
First time repayment period: 7 weeks
***************************
2. Cobol loans
First time loan limit: R8 000
Est. APR: 104% – 212%
First time repayment period: 6 months
***************************
3. MPOWA Finance Loans
First time loan limit: R8 000
Est. APR: 60%
First time repayment period: 1 months
***************************
4. Finchoice MobiMoney loans

First time loan limit: R10 000
Est. APR: 24.5%
First time repayment period: 3 months
***************************
5. Fasta loans

First time loan limit: R8 000
Est. APR: 36%
First time repayment period: 3 months